With the Yuletide season now fully upon us, children everywhere will be eagerly awaiting Santa's arrival. Brimming with excess energy and looking for outlets, this is the perfect period in which to embark upon some festive fun with young ones. There are a whole host of Christmas activities for kids that embrace the holiday spirit and provide hours of entertainment. Below we look at a handful of suggestions, along with a selection of aids that can come in handy. After all, you want to ensure everyone can take part in enjoying everything that encapsulates Christmas!
Creating Cards & Wrapping Presents
Nothing epitomises Christmas quite like the sending of cards and exchanging of gifts. Sometimes it can be nice for children to go the extra mile by creating and decorating their own Christmas cards. Not only does this add a personal touch that friends and family will love, but it also allows children to tap into their imaginations and get creative.
One fun idea is the Christmas tree card.
Make yours by following these easy steps:
Firstly, slip an EazyHold Strap onto a paintbrush in order to secure the brush in your child's hand. Then, using several different shades, allow them to cover plain white paper with green paint…the messier, the better!
Once dry, mark out some triangles and ask your child to cut out the shapes using the Table Top Scissors which automatically reopen after you push down on them.
Fold some stiff card in half to create a greetings card. You can use any colour of card, but we love black for an unusual, eye-catching design.
Have your child glue on their green triangle, affix a star to the top, and use felt pens to add any decorations and create their own Christmas tree.
A simple yet effective homemade Christmas card!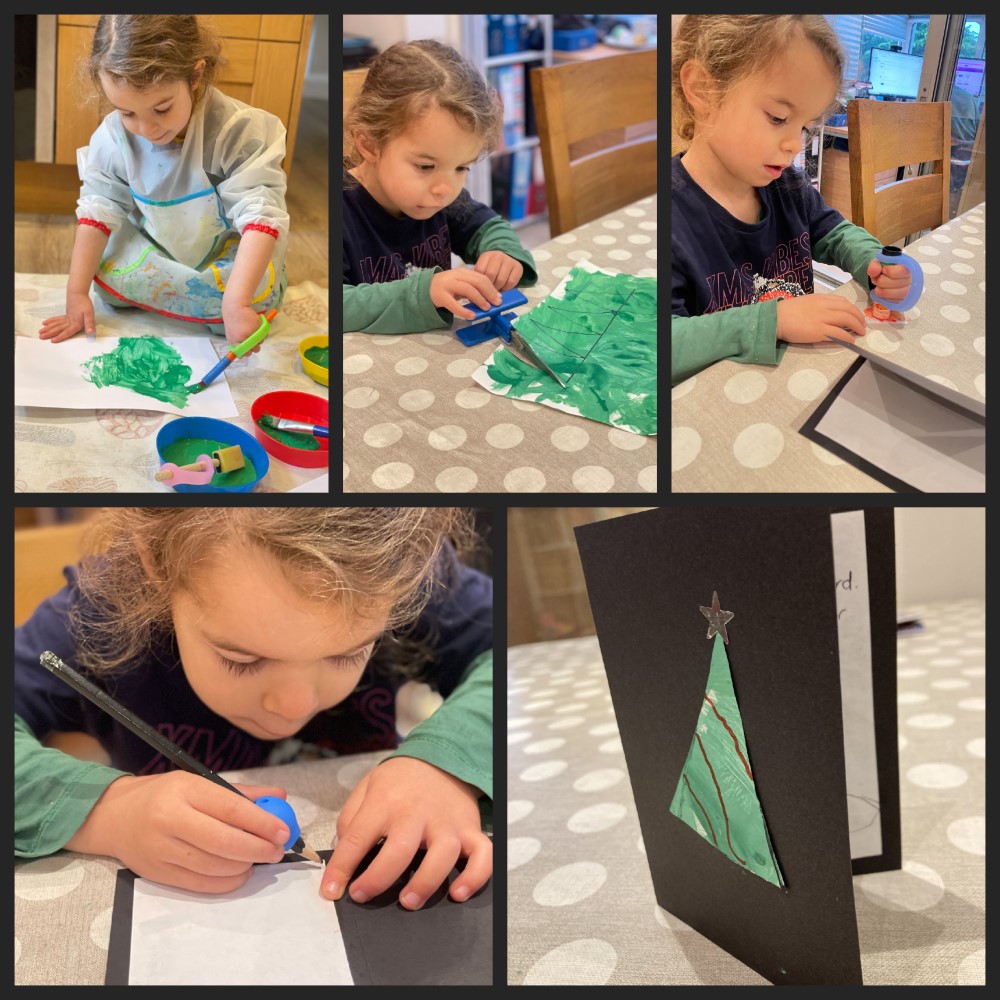 Wrapping presents may not require quite the same level of creativity as creating cards, but can still be an enjoyable experience, when not battling with reams of paper that is! Slipping a Nimble onto your child's finger can simplify matters considerably. The tiny blade at the tip allows them to slice through paper without risk of hurting themselves. Then it's just a matter of folding the paper around each gift, securing it with some strategically placed sticky tape, and popping the pristine presents under the tree!
Warning: whilst the Nimble features a small safety blade, this should still always be used under adult supervision.
For a full list of products that could help with these activities, visit the School/Office section of our store.
Baking Christmas Treats: Christmas activities with a delicious outcome…
Getting creative in the kitchen is another great way of spending time as a family. What would Christmas be without the smell of mince pies, chocolate sponge, and freshly iced gingerbread wafting through the house? Unfortunately, limited hand function can make baking feel increasingly like a chore for children. Ingredients can be more likely to be dropped than chopped! Incorporating a few of our kitchen aids into proceedings can counter this. With a few handy tools you and your children can discover a love of baking together.
So clip on your Aprons and join us as we bake our own chocolate cornflake Christmas wreath:
Ingredients
100g butter
200g milk chocolate broken into chunks
6 tbsp golden syrup
150g cornflakes
Icing, white chocolate and smarties to decorate
Instructions
Place the butter, chocolate and golden syrup into a saucepan and melt over a low heat, stirring occasionally.
Once melted, allow the mixture to cool a little. Meanwhile, dispense the cornflakes into a large mixing bowl and then pour the mixture over the cornflakes.
Stir the ingredients gently until all the cornflakes are coated in the chocolate mixture. Secure the mixing spoon to your child's hand using either a Small Item Gripping Aid or EazyHold Strap.
Place a glass in the centre of a cake board and spoon the cornflake mixture into a circle around the glass. Place into the fridge and leave to set for 2+ hours.
Just before the mixture is ready to take out of the fridge, grate a few chunks of white chocolate using the GraterZoom, melt a few more chunks in a small pan, and load some icing into the Icing Pen.
Once the mixture is set firm, remove the glass from the centre and decorate with icing to look like ribbons, grated white chocolate for snow and smarties (dipped in melted chocolate to help them stick) for baubles.
Slice with a Right Angled Knife and tuck into your festive chocolate wreath!
There are endless other culinary possibilities out there. So, if your children enjoyed this then why not take a peek at our full list of kitchen aids and see what could be next!
In the meantime, if you want to see a couple of real experts at work, here's a video of Rob and I cooking up a Christmas pudding from a few years ago!
Walking & Wheeling In A Winter Wonderland
As much as we all love to head outside and bask in the summer sun, there is something special about going on winter walks together as a family. A completely different side of nature is on display. The trees are largely bare, the ponds are frozen, and an imprint of every creature's footsteps can be seen when it snows. Add to all that the lights and decorations adorning every house, conifer and lamp-post, and you've got a Winter Wonderland on your doorstep ready to explore.
Ensuring the whole family is wrapped up warm before heading out is an essential yet time-consuming process. Particularly if you have to help the children with the likes of jackets, shoes and gloves! Incorporating some of our aids into the dressing routine speeds up the process and reduces parental stress levels. This also promotes independence in children and increases their motivation for going out.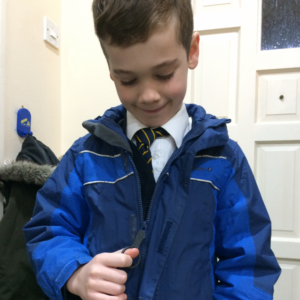 Thick tops and jackets feel great to wrap up in, but doing them up can be something of a battle. Replace finicky zips on children's tops and jackets with MagZips and the ends will magnetically lock together. This means no more fighting to slide one zipper segment into another. For ease in pulling the zip up, clip a Zip Grip onto the pull tab. There is now a loop with which your child can pull the zip up and down independently, using just one finger!
Nothing says winter walks quite like slipping into a well-insulated, sturdy pair of shoes or boots. However, tying and untying laces is something many children struggle with. Attaching a pair of Zubits Magnetic Laces to their footwear removes this problem entirely. Once attached to both sides of the shoe, simply bring the two Zubits together to fasten them, then pull them apart to unfasten. The strong magnets allow children to slip their feet in and out of their footwear in a matter of seconds, no messing on with laces and loops!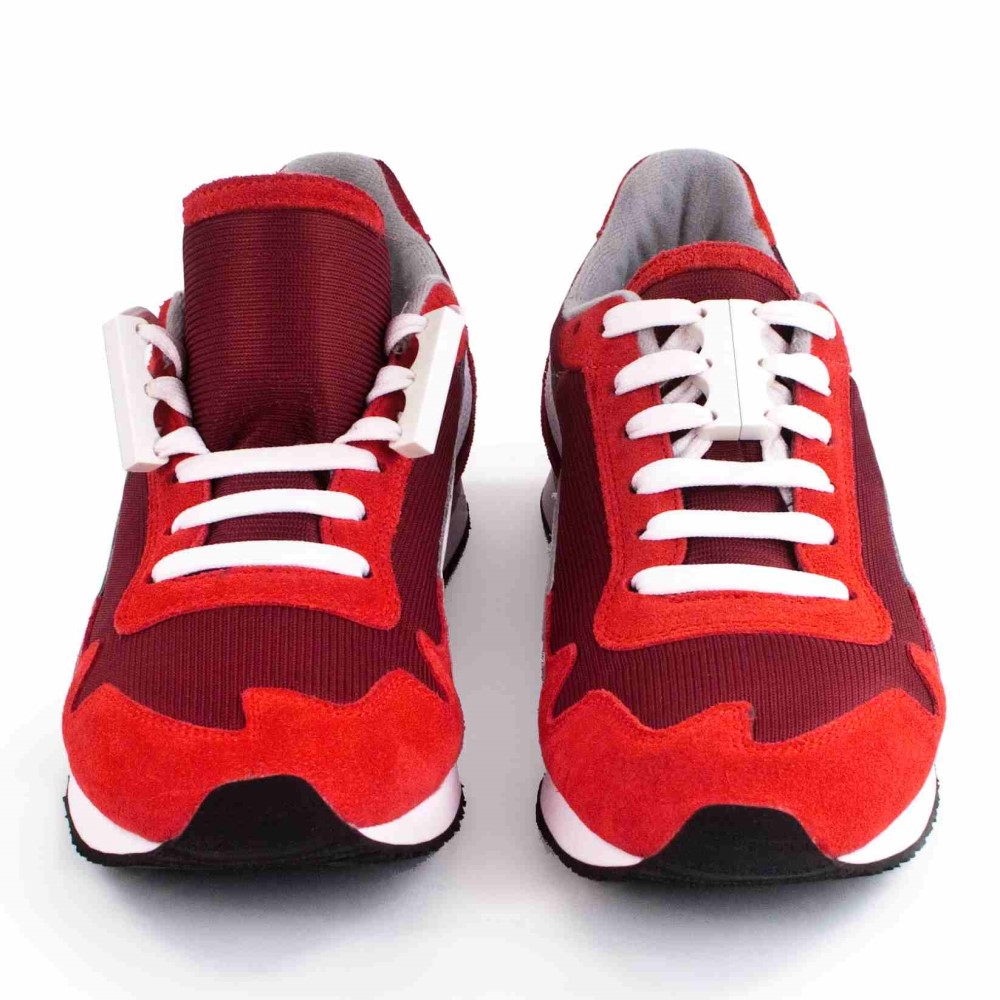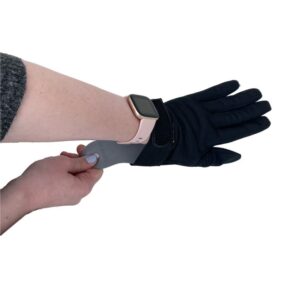 Gloves, the final item to get put on before heading out into the winter air, are a must for children, especially if there's snow involved! However, sliding fingers inside the gloves and into the correct finger holes can be tricky if they're not perfectly straight and aligned. Using a Glove Pilot can solve this. By slotting it just inside the glove, your child is able to slide their fingers along the Glove Pilot's finger grooves and into the glove itself. Each finger is channelled into the correct finger hole, ensuring your child's active hands don't become shivery digits!
So get outside with the kids and enjoy some family frolics this Christmas. Take some frosty photos. Judge which house is adorned with the best decorations. Check out the Christmas markets… there are a whole host of possibilities! Check out our shop page for the rest of the outdoor products available. This includes Push Rims and Push Gloves designed specifically for wheelchair users with limited arm/hand function.
Indoor Antics: Easy Christmas Activities!
Often, playing indoors can be just as much fun as playing out, especially when the long winter nights roll in. Family game time around the fireplace is another classic embodiment of Christmas, and limited hand function shouldn't get in the way of this. So break open the card deck, fire up the console and prepare to get competitive this Christmas with the help of Active Hands!
Card games are a great way to bring the family together. Quick and easy to set up, there are an almost limitless number of variations, so things never feel repetitive. What can start to feel repetitive for children is the constant fight to fan through the cards in their hand. Attempting this with limited to no grip can often result in cards being spilled onto the table. This spoils the game and ruins the children's fun! If this is the case, then have them try the Card Holder. The cards slot easily in between the two circular disks. Then, twist the disks in opposite directions to spread the cards out in a perfect fan. This enables children to hold and view their cards with ease, allowing them to focus on the game in hand.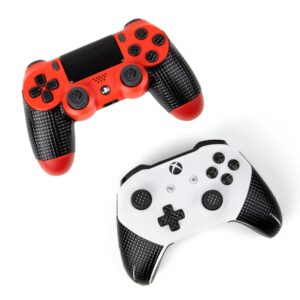 If card games bring families together, then computer games unleash the competitive edge amongst them! Whether competing against each other in sports/fighting games, or alongside each other in team/strategy games, grown-ups and kids alike will be gripping controllers and bashing buttons as if their lives depend on it this Christmas! Having the controller slip out of a child's grasp at the last moment, and with it the victory, can be the cause of much vocal frustration. The Cat Tongue Gaming Grips ensure this is never an issue. These non-slip grips can be attached to both the controller 'arms' and the buttons/sticks. Designed to fit either a PlayStation or Xbox controller. This helps the controller stay in the children's hands and gives them greater control over movement and actions. The only downside is that now they have one less excuse to use if they lose!
Besides consoles, plenty of children will be getting their gaming fixes via phones and tablets this Christmas. Accessed at the touch of a button, there are a whole host of multiplayer games available on the app store. Some involve puzzle solving, some involve drawing, some involve quizzing and some even involve dancing! However, the same old issues involving grip and screen tapping exist, especially if it is a struggle to open hands and extend fingers.
The Ungrip [edit: now replaced by Phone Loop] provides children with a fabric loop on the back of the phone they can slide their finger through. This enables them to hold their device at any angle they wish without risk of it slipping out of their grasp. For tablets, stick some Cat Tongue Grip Tape to the back and save yourself a small fortune in replacement screens!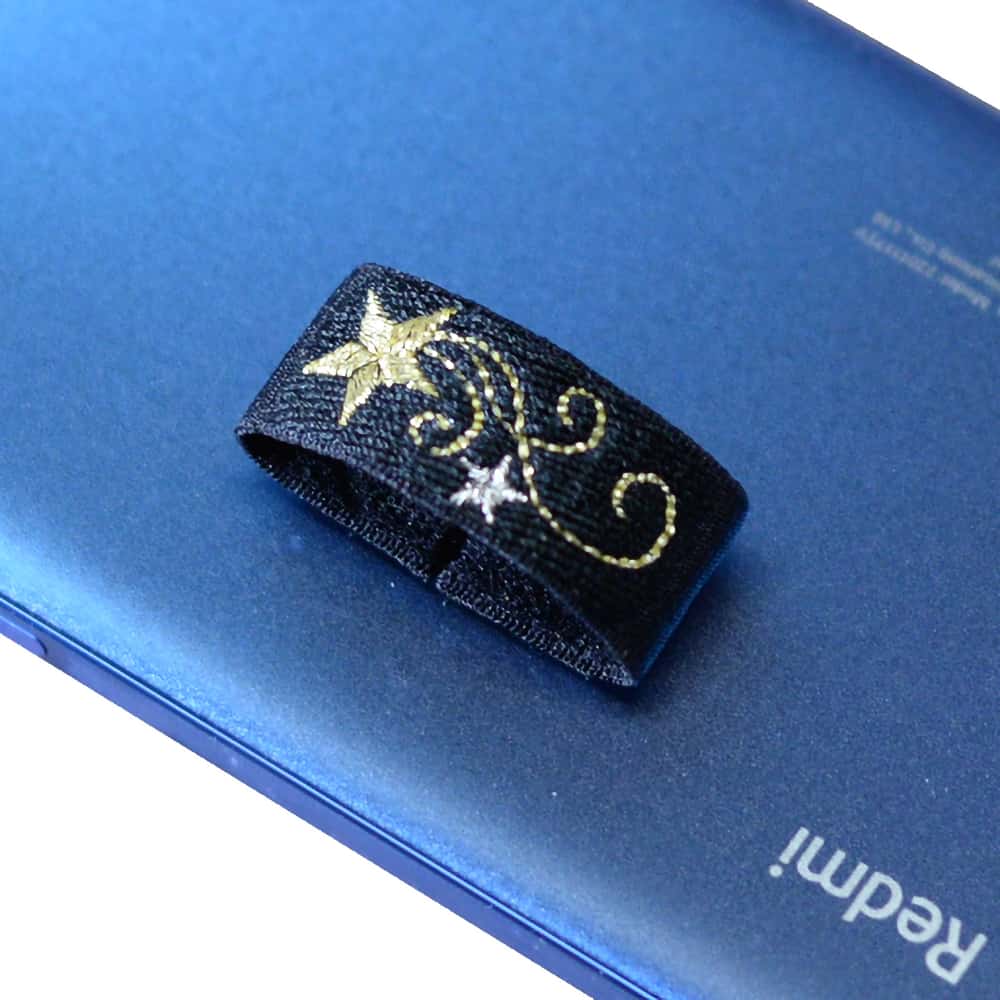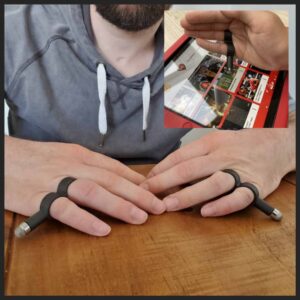 In order to avoid the frustration of repeatedly tapping the incorrect button or area of the screen, slip a Sixth Digit 2 onto each of your child's hands. Designed to be worn on the last two fingers of one or both hands, they provide the wearer with a couple of extended stylus tip that are compatible with any touchscreen. Your child is now free to tap, drag and swipe without worrying about finger extension or awkward hand presses.
Check out our shop page for other helping hands to aid indoor antics. Let the kids' get their game on this Christmas!
So there we have it, a plethora of possibilities to keep the kids entertained this holiday season. No matter what you get up to, whether indoors or out, make sure you have everything available to enable the whole family to join in with the fun. And if there's a particular aid or adaption you or a family member is missing, now is the ideal time to subtly drop it into conversation. Let's just hope no one ended up on the naughty list…!
Gareth Herridge