 Description
The Small Item gripping aid is a new and exciting gripping aid from Active Hands. This aid allows you to hold small diameter items such as make-up, bathroom, art and office products.
Unlike other products on the market, this gripping aid is unique in that it allows you to hold items at any angle you want. Want to paint on an easel? Apply mascara? Play the drums? Position the palm pad at the perfect angle to do any of these things and many more.
A two-part system, consisting of a neoprene glove and a velcro-on palm pad, allows you to swap between palm pads quickly. (The Small Item gripping aid comes with one glove component and one palm pad. Additional palm pad twin-packs are available here). Why not have a set in the bathroom with razor, toothbrush and hairbrush? Or a set for your make-up brushes? Or load up different brushes ready for painting?
Pre-loading the palm pads definitely made it easier and is what I will do every time I use it because the items will just be ready for me to grab and use immediately.

Brenda Besos
Using the Small Item gripping aid
The glove is made from comfortable neoprene. Secure the glove around the hand and wrist using the two Velcro straps. As with all Active Hands products, you can simply tighten the straps using plastic rings, even with little or no finger strength. The palm pad is a velcro-backed square with a plastic clamp attached. The clamp holds the item in place. Place the item inside the clamp and pull two ribbon loops to close. Simply velcro the palm pad to the glove and you are ready to go.
There are two sizes available, see our size guide (in tab above) to find out which size is best for you.
Instructions showing how to use your Small Item aid can be found here.
*pen not included (the one in the picture doesn't work anyway)!
Size Guide
Size Guide for Small Item Aid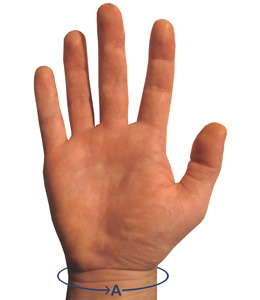 A = circumference of narrowest part of wrist
A: Wrist
[su_table responsive="yes"]
| | | |
| --- | --- | --- |
| Small: | 135mm – 160mm | 5.3″-6.3″ |
| Standard/Large: | 160mm – 210mm | 6.3″-8.3″ |
[/su_table]
(n.b. measurements are approximate)
The small item aid does not need to fit as tightly as our other gripping aids. If you are borderline on the wrist size then consider your hand size across the knuckles: if it is greater than 18cm you may want to consider the Standard/Large size.
If you have specific requirements which are not met by any of our sizes, we may be able to manufacture a bespoke aid to suit your needs. Please email info@activehands.com with any enquiries.
Best gripping aid for me?
Active Hands now sells a wide range of gripping aids for a wide variety of activities. To help you decide which gripping aid is right for you, please read the guide below.
At a glance…
[su_table responsive="yes"]
How does your disability
affect you?
What do you want
to grip?
Which aid is right for you?
Reduced hand function / Poor finger strength

Tremors or involuntary movement

(This may include people with
Spinal Cord Injury, MS, cerebral palsy,
Guillan-Barré Syndrome, muscular dystrophy,
spina bifia, stroke survivors and other
similar disabilities).


Gym Equipment
General Purpose gripping aids
D-ring gripping aid
Looped exercise aid
Hook aids
Gym pack/Gym pack deluxe
DIY tools
General Purpose gripping aid
Kitchen implements
General Purpose gripping aid
Sports equipment; rowing, kayaking etc
General Purpose gripping aid
Looped Exercise aid
Hook aids
Gardening tools
General Purpose gripping aid
Winter sports equipment such as adaptive skiing
Winter Sports aid
Small diameter item: pen, make-up, toothbrush
Small Item gripping aid
Adaptive tricycle/children's walking frame
General Purpose Mini aid (for children under 5) or General Purpose gripping aid
Missing fingers Missing parts of hands

This may include people with dysmelia (conditions from birth), or amputation, illness or injury later in life.


Gym equipment
Limb Difference gripping aid
D-ring gripping aid
Looped exercise aid
DIY tools
Limb Difference gripping aid
Kitchen implements
Limb Difference gripping aid
Sports equipment; rowing, kayaking etc
Limb Difference gripping aid
Gardening tools
Limb Difference gripping aid
[/su_table]