Tetra Push Rims
$165.00
Please note these rims are sold individually – if you need a pair please buy two!
The profile of these push rims have been specially designed to make pushing easier for those with reduced hand function. They are covered with a durable anti-slip coating giving you a better grip when pushing or braking.
There are three different types of push rim with different profiles to suit your hand size/level of disability: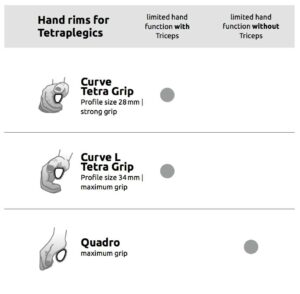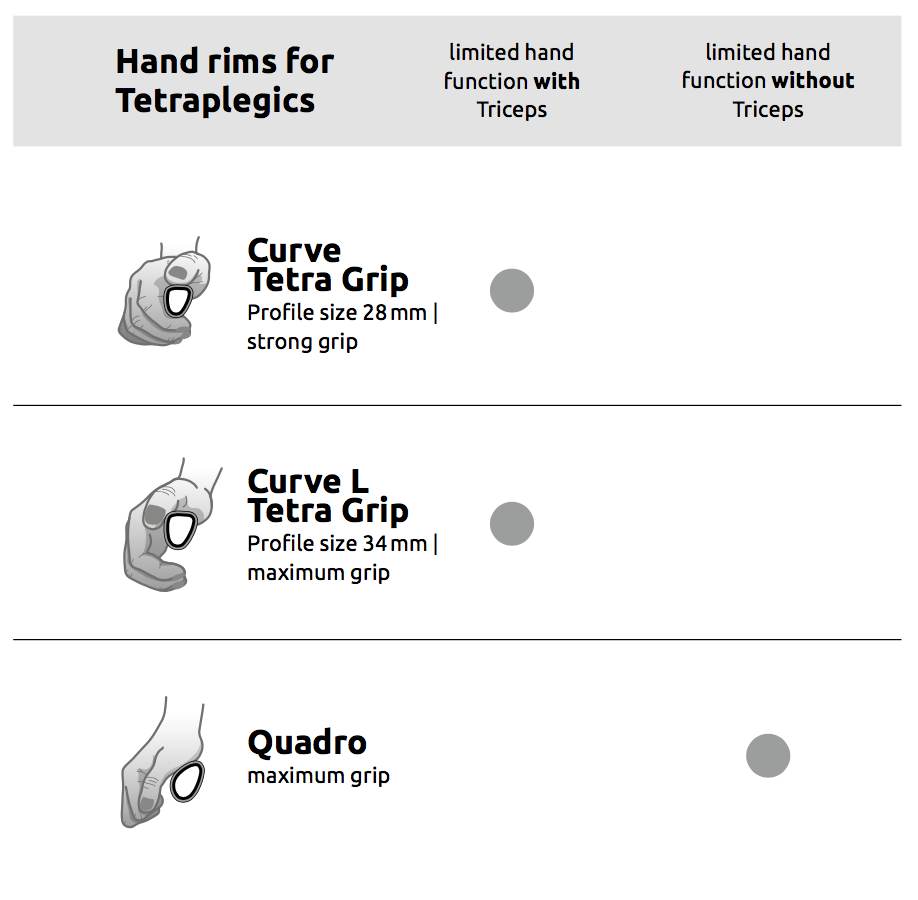 The manufacturer, Carbo Life says this about the Curve and Curve L tetra grips:
Being larger than conventional round profiles, this innovative profile provides tetraplegics with triceps function with a gripping surface optimised for exerting considerably more pressure on the pushrim. As a result, propelling the wheel-chair along a flat road and particularly uphill requires less physical effort while being much gentler on the joints and ensuring better and more secure wheel-chair handling. Along with the extremely durable anti-slip coating, the handrims make riding and steering your wheelchair much safer. When braking, the larger gripping surface helps to distribute the pressure much better and thus reduces generation of heat.
The profile of the Quadro has been designed for those with no tricep function. The angled pushing surface allows you to get maximum contact on the push rim with the heel of your hand. The manufacturer says this about the Quadro:
Designed with the biomechanics of tetra-plegics with no triceps function in mind, the profile of the Quadro provides a considerably larger gripping surface than a conventional handrim. Featuring an extremely robust anti-slip coating, it offers you unsurpassed grip for efficient propulsion as well as maximum control during braking and when correcting the direction of travel.
If you require these same push rims in a different size or with a different fixing method please contact us to arrange purchase – dispatch@activehands.com.  We do not keep all the options in stock but an order of a different size or fixing can be arranged for you (please note: this will add a delay of a few days to your order).