Use your keys with ease with a keywing! If you have reduced hand function, keys can be fiddly to turn. The keywing gives you extra 'wings' to hold on to. Yet the sleek design is still small enough to fit the keys in your bag or pocket.
This award winning design offers a simple solution to the problem of using Yale Keys which have a small surface area making them difficult to grip and turn.  Clip the keywing over the key to provide a much wider finger contact area. This improves grip and leverage when turning. The keywing is available in a range of 3 bright colours allowing you to colour-code your keys and find the right one first time, every time.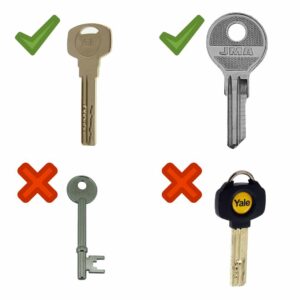 Suitable for use with round and rectangle topped Yale keys.
Not suitable for plastic topped keys or to Mortice lock keys (the old fashioned keys).