Plug tugs are plastic strips that wrap around your plugs creating a flexible handle, allowing you to pull the plug out easily.
They come in a pack of 10. The pack also contains labels, coloured dots and a pen so that you can label your plugs. That saves pulling the wrong one out!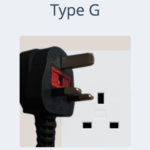 Due to the way they are fitted, the plug tugs are only suitable for 3-pin plugs with rectangular pins. These type-G plugs are used in the UK, Ireland, Cyprus, Malta, Malaysia, Singapore and Hong-Kong. Other countries that use a type-G plug are listed on the world standards website.
The plug tugs are a little tricky to fit (you may need assistance) but once they are on they stay fitted to the plug. There are two holes, at either end of the strip, that fit over the pins of your plug. The snug fit means that the tug stays firmly on the plug, allowing you to remove plugs easily.
Some plugs have a thin profile, for example plugs for Apple devices like phone chargers or laptops. This makes them particularly difficult to get out! The plug tugs enable you to remove these plugs easily.
*Plug not included 😁