Here at Active Hands, we endeavour to cater to every type of upper limb disability. Starting out primarily working with high level spinal injuries, our initial range of products focused solely on those of us with limited grip in one or both hands. However, disability comes in many forms, and some people are born with or develop an impairment which means they are only ever able to use one hand.
In these cases, our standard range of gripping aids doesn't always apply. Having two hands of limited function is entirely different from having only one usable hand, even if that hand is fully functional. Over the years we have diversified our product range to include gadgets and aids specifically designed for people who have the use of only one hand. This could be due to amputation, stroke, limb difference or many other conditions.
Hannah is one such person. Born with an upper limb difference, Hannah has lived her whole life with one fully functioning arm. Growing up with an able-bodied sister a year younger than her, Hannah envied seeing her sister accomplish things that she couldn't. She felt her independence being stripped away as she was often looked upon and treated differently. However, as Hannah got older she learned to navigate her way round tricky situations. Sometimes this was through sheer will and determination, and sometimes with the help of an aid.
Hannah now works as a second-line support and Junior Developer at TechWizard. Recently, she has been testing out some of our one-handed products and offering some enthusiastic feedback on the difference they have made to her daily routine. This article is aimed at highlighting a number of these products, showing just how beneficial they can be. So take a look and see how many could be of use to you or your loved ones…
One daily issue Hannah faces is tying their hair up into a ponytail. This is a common complaint from our customers with limb difference and long locks! Having the use of only one hand makes it incredibly difficult to use a standard hair tie. This often means having to rely on others to keep the hair out of your face when at work, walking outdoors or playing sports. The 1-Up Hair Tie provides an elegant solution for this. It's simple to use…
Put the long elastic loop over your head
Pull so that it goes to the back of your head and the toggle tightens around the hair
Wrap the excess elastic around the toggle and you're good to go!
The 1-Up Hair tie is suitable for various different abilities and great for creating pigtails and buns. This is the one-handed, hassle free way of tying up your hair!
"This hair tie is brilliant as tying up my hair is something that I've never been able to figure out (to the point of usually cutting my hair short). This has allowed me to have the independence to freely have my hair up and out of my face for activities such as exercise and cooking where I would previously have to ask someone else for help."
Putting on a bra can be a finicky process for even the most dexterous of people (or so I'm told)! Therefore trying to put one on using only one hand is virtually impossible. Or at least it would be were it not for the Bra Buddy.
Designed to be used entirely with one hand, this clever gadget holds each end of the bra in place. You are then able to feed the bra around your body and hook the ends together. Then simply twist it into place and feed your arm/arms through the straps. Ideal for enabling independence, the Bra Buddy is here to help you start your day in the smoothest possible way.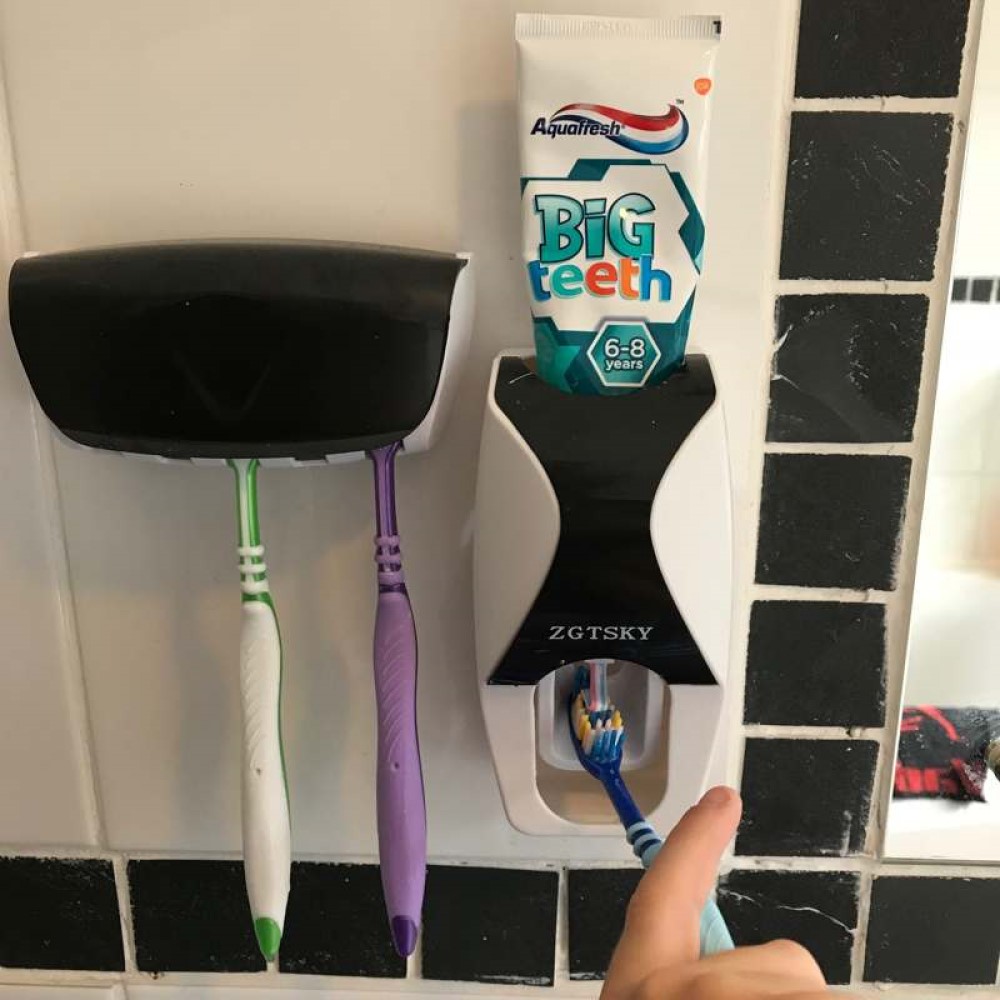 Squeezing toothpaste onto the brush as it teeters precariously on the edge of the sink can often result in wasted toothpaste and stained surfaces. The Toothpaste Dispenser removes all of these issues. Just affix it to the bathroom wall, screw your toothpaste tube into the top and you're all set up. Now, when you're ready to brush your teeth, simply push your toothbrush into the slot. The mechanism will dispense the necessary amount of toothpaste onto the brush. This is ideal for one-handed use and also comes with a handy toothbrush holder for all the family brushes!
The one-handed opening of jars and bottles can be a real challenge. More often than not you find yourself either sitting down and clamping them between your legs or jamming them up against a surface and hoping they don't fall. Both of these methods are awkward and offer no guarantee of success. The Belliclamp Jar and Bottle Holder removes this challenge.
Hook the Belliclamp over your work surface.
Place your jar or bottle in the V-shaped clamp area.
Use your body to push the ram up against the item, securing it in place.
Twist the top off with your hand and move back to release the clamp.
An absolute lifesaver in the kitchen! The belliclamp can also be used in conjunction with the Jar Opener, 5-in-1 Opener or Automatic Bottle Opener.
"Jars are generally a tricky thing to open and without having the ability to grip the jar and turn its lid can make it frustrating to open. With the Belliclamp I was able to easily hold the jar in place so I could use my free hand to open a jar with amazing ease and without the frustration that I used to face."
Most people would consider making a sandwich to be among the most straightforward of meals. This is because most people haven't tried to make one using only one hand! The simple spreading of butter can quickly become an exercise in frustration as the bread slides around, threatening to flop over the side of the plate at any moment.
This is where the Sandwich Prep Board comes to the rescue! The board hooks onto the edge of your work surface and uses non-slip pads to stay in place. It has two diagonal lips perfectly designed to hold bread in place. Place the bread against these lips then spread butter, jam, peanut butter or whatever else you fancy onto it! All the while using just one hand. For Hannah, this is ideal when making lunch at work, as well as when she fancies a quick slice of toast!
"The sandwich prep board allowed me to easily spread butter on bread without the need to use my residual limb to hold the bread in place and get butter all over my arm. It also helped me make a nicer spread than usual and kept the bread a lot more stable than it usually is when I'm making a sandwich."
Whether knocking up some light snacks for friends or creating a banquet for the full family, Hannah knows that a good prep board is an essential requirement. However, trying to chop, slice or dice ingredients when you're unable to hold them in place on the board can be a messy affair! This is why we stock the Food Preparation Board. Made from solid wood and with anti-slip feet, this high quality board has a spiked area designed to hold food in place as you cut it into whatever size pieces your require. Not only that, but it also comes with a built-in grater/slicer and collection bowl. This allows you to grate or slice things like cheese, fruit, vegetables etc using only one hand. This multi-functional board will save you a lifetime of struggles in the kitchen, opening up the possibilities for more adventurous foodie forays in the future!
"I loved the food preparation board. As someone who does enjoy cooking but is also generally a clumsy person, this has allowed me to chop vegetables without the risk of accidental injury. When using it to cut a cucumber I found it very stable. The different attachments were all easy to use and apply so if I needed to grate some cheese, I could easily do that and use the collection bowl underneath."
Sitting down to enjoy a meal is one of life's great pleasures. However, being able to only hold one item of cutlery at a time, and having food constantly slip out from under your knife or fork, is a sure fire way to sour the experience. Thankfully the One-Handed Plate is here to help!
A brand new arrival, the One-Handed Plate has an arrangement of inbuilt pegs specially designed to hold a variety of different shaped and sized foods in place. It holds everything from bread rolls to potatoes, pieces of meat to slices of cake. This allows you to easily cut into them one-handed without fear of them sliding away from the knife. The high lip going round the edge of the plate is perfect for scooping up smaller items like veg, and the sauce slope ensures liquids are more easily contained and don't get in the way of cutting. So if regular plates are turning your foodie forays into foodie frustrations then give this plate a go and see the difference!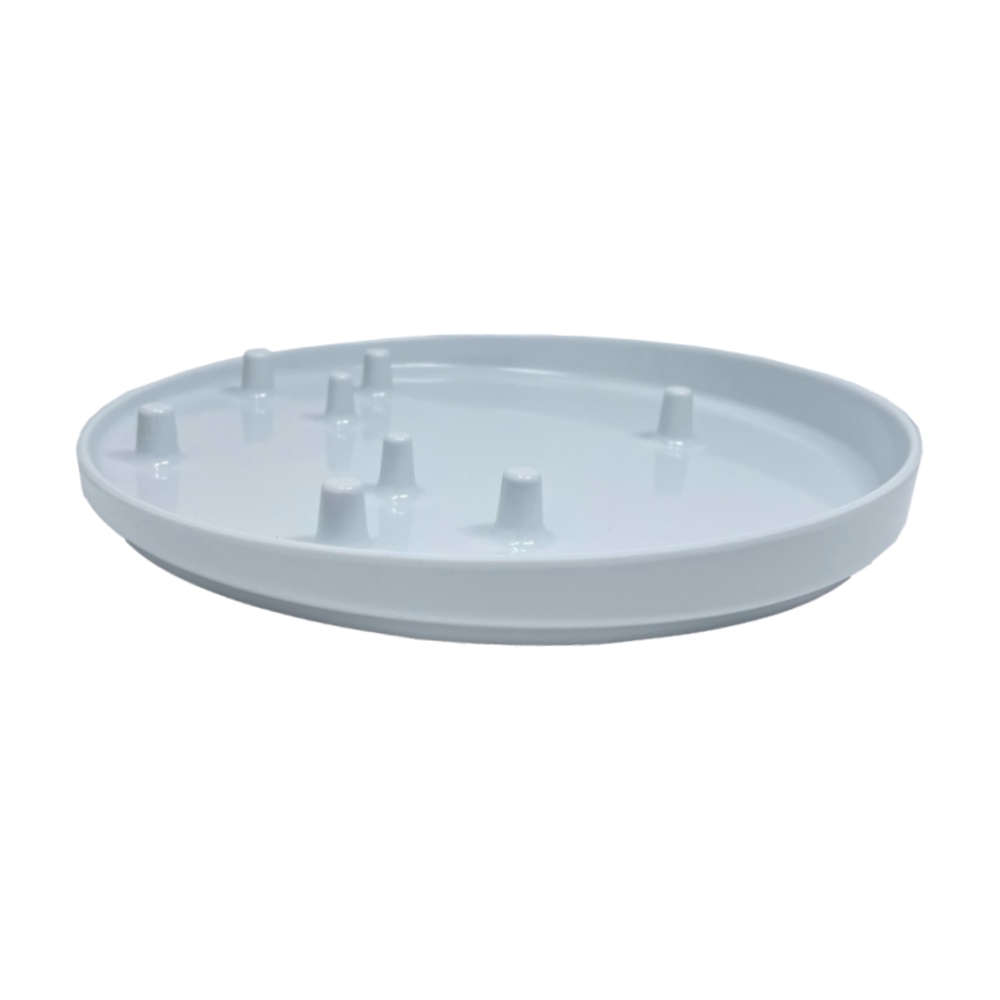 Much like paying taxes, washing up is one of those things that has to be done no matter how aggrieved you may feel about doing it! Hold item in one hand, scrub with the other, rinse and repeat. However, remove the ability to hold onto each item that needs washing and the entire process quickly devolves into chaos, as you chase it around the sink scrubbing brush in hand! Enter, the One-Handed Wash Brush. Whilst the suction cups allow it to be secured to either the base or side of the sink, the dual brushes clean both sides of an item simultaneously. This makes it ideal for Hannah or anyone with limb difference. Slide a plate in and rotate it. Pop a glass/mug over the top and twist it. The bristles ensure the item gets a good scrub with minimal hassle, speeding up the process and reducing stress levels!
"The one-handed brush made washing different kitchen tools easy to do. The suction cups made it stable which means that I can do the washing up without creating a mess on myself when trying to reach different angles."
There we have it – just a small selection of the one-handed gadgets that can be found on our Store Page. Each of the products we stock is designed to overcome a particular hurdle. On top of everything listed here you can also find one-handed gadgets to help you with the likes of dog walking, phone charging, shoe lacing, tray carrying and much more. We're always adding new items, so it's well worth checking back every so often. Who knows, just like Hannah found, we may have the solution to a problem you've been struggling with for years!
Gareth Herridge