We were recently contacted by 10 year old Amélie who excitedly told us what great progress her mum, Rachel, had been making with some of our products. We chatted back and forth with Rachel, and discovered that she'd been on quite the journey since her injury; a journey that has seen her become a wife, mother and dog owner! The latest chapter in her life saw her bedridden with a severe pressure sore; however during this time she discovered a passion she never knew she had, which has developed not only into a therapeutic hobby but also a career.
This is her story…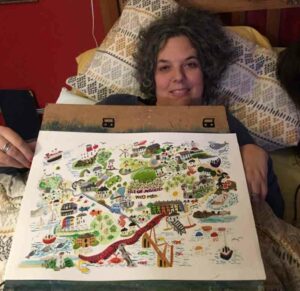 Rachel's spinal injury journey began in 1997 when she was 23 years old. Whilst on a diving holiday, she was struck by a freak wave in the Indian Ocean, which caused her to hit her head on a sandbank and almost drown. Rachel was told she had broken her neck at a C5/6 level and would never walk again. This was obviously a huge thing to come to terms with at such a young age, but Rachel did just that; and over the following years she learnt how to drive, moved into a fully accessible house, got a job and continued travelling, whilst somehow also finding the time to get married and have a child!
Fast forward to 2018 however and Rachel's life was turned upside down when a particularly nasty pressure sore saw her having to stay on complete bed rest for 15 months. Things were so bad that she was twice rushed to hospital with sepsis and was told that her sore was so severe that it could not be fixed by surgery, meaning she would not be able to get out of bed again. As someone with a family, a job, and a full and active life, this naturally had a devastating impact on Rachel's mental health and she began suffering from depression.
Five months down the line, having not left her bed, Rachel's husband decided to get her a set a simple watercolours in an attempt to boost her spirits and give her an outlet for her creativity. Initially sceptical at the idea, as she had never painted before, Rachel soon discovered she had a real flair for it and it wasn't long before she was painting almost every day. People who visited were so impressed by Rachel's work that they asked her to create work for them which gave her a huge boost in confidence and morale. She also realised her paintings had a certain unique style to them, as none of the straight lines she drew were ever truly straight – and thus The Wonky Artist was born!
"'The Wonky Artist' comes from the fact that I painted a lot lying on my side in bed (and still often do!), using both hands to hold the brush as I have no hand grip due to the extent of my spinal injury."
Despite her newfound outlet for creativity, Rachel still dreamed of being able to get out of bed and get back to her old life. She began pursuing as many possible surgical options as she could find, but was either told they couldn't help her or that the waiting list was between one and two years and, if done privately, would cost £200,000! Eventually though, she found a plastic surgeon with a PhD in spinal injury pressure sores who worked at a hospital just two miles away, and who was willing to operate on her sore. So in January last year, Rachel underwent the 7 hour operation which required 3 blood transfusions and a 3 month stay in hospital. The operation was 95% successful and after another 4 surgical procedures to repair the remaining 5%, Rachel finally got out of bed and back in her wheelchair, 21 years to the day after she had her injury!
"I still have down days but am so grateful that despite all the initial waiting and despair, I was given a whole new lease of life, thanks to my surgeon and his amazing team and I try hard not to take things for granted."
Finally on the road to recovery and recapturing her old life, Rachel continued to paint from her chair, however she was also focussed on regaining her independence and it wasn't long before she came across the Active Hands website. As someone with no hand function, she could immediately tell that many of these products would be ideal for her and over the following months built herself a mini collection, including:
"Before she discovered Active Hands she was a lot less believing in herself and she could do less things. Thanks to you she can now pick things up off the floor and empty the washing machine with her Grabber! She can now take water inside and outside with her Muggi! Now that she has your Gardening Tools, we hope that this weekend the sun will shine so that we can try them out in the garden!" – Amélie (Rachel's daughter)
Armed with her paintbrush and arsenal of aids, Rachel is making real progress in her recovery and was recently able to go on holiday to France for a week with her family. She continues to work hard in the gym in order to build up her strength, energy levels and overall confidence. Her artwork has really taken off too and she has not only garnered an impressive social media following but also now sells her paintings on her website, a link to which can be found below. She also recently ordered herself a Small Item Gripping Aid, which she is excited to try out with her paintbrushes. In the future, Rachel hopes to be able to do some motivational speaking so as to inspire others with her story which Active Hands is thrilled to have played even the smallest part in!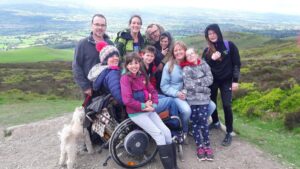 To find out more about Rachel and check out her amazing art, visit her website The Wonky Artist.
Gareth Herridge