So here we are, 2020 – a new decade!
But where are the hover chairs, the self-tying trainers, the robotic augmentations?! Hell, at this point I'd settle for some spasm medication that doesn't leave me feeling like a partially deflated New Year's Eve balloon! Yes, despite the many depictions of the futuristic society we'd all be living in by this point, it seems that some things never change and that there is only one real certainty as we start this new decade…
It feels like this claim must be thrown about by a solid 75% of people whom, after having existed in a holiday bubble orgy of excess consisting of food, alcohol and merriment for the past fortnight, suddenly awaken in a cold sweat one January morning, as reality sets in and their eyes focus on the small island of empty wine bottles and kilogram sized Cadbury's Dairy Milk wrappers that has appeared at the foot of the bed! The panic that occurs can be even greater amongst those with a disability, as it can often be far harder for us to lose weight from certain parts of our bodies. This mindset, coupled with the resigned belief that it is infinitely harder for people with disabilities to access most gym equipment and sporting activities, can leave people feeling abject, hopeless and trapped in a self-destructive cycle of negativity.
That is why this year we have decided to publish a New Year's article showing various people with differing disabilities who, with the help of something as simple as an Active Hands gripping aid, have been able to fully embrace the world of sport, exercise and fitness.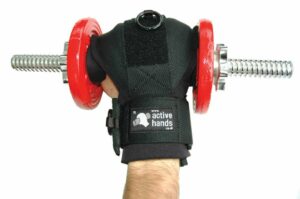 Ben aka The WorkOut Warrior
Ben was a professional swimmer when he dived head first into a shallow bed of water in 2010. The broken neck he sustained left him paralysed from the chest down, with weakened arms and hands. Not wanting to let this injury define, or indeed confine, him, Ben was determined to use his mental strength to help him recapture his physical strength.
So as soon as he was able to, Ben was back in the gym, looking for ways to regain his strength; and it wasn't too long before he came across Active Hands. Starting out with a pair of General Purpose gripping aids, he has since added the Looped Exercise aids and D-Ring aids to his arsenal, using this combo to give him a varied and challenging workout every time he's at the gym.
Eager to share his knowledge and positivity with others, Ben launched the YouTube channel 'AdaptToPerform' which now boasts over five thousand subscribers! On top of this, he is head of strength, conditioning and sports science at a performance swimming club, and is also completing his personal trainer qualifications.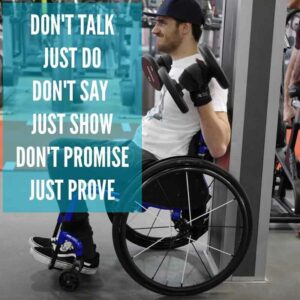 "I just believe life is for living. To some exercise might seem pointless or just for looks. But for me it gives a sense of purpose and allows me to live my life to the full! You get both a rush of endorphins and a meditative effect. You basically can't lose!"
Jillian aka The Kayak Queen
Born with a birth defect that resulted in a malformed right leg above the knee and a right hand made up of a thumb and two fingers, Jillian has spent her whole life adapting and overcoming anything put in her way. Wearing a prosthetic leg since infancy allowed her to take part in any number of activities as a child, such as riding a bike and rollerskating. However, it wasn't until years later, during a trip to Mexico, that Jillian found her true passion – kayaking!
Quickly realising she had a natural flair for the sport, Jillian was eager to spend as much time in the water as possible. Her one major frustration however, was that she lacked the grip and supination in her right hand necessary to adequately hold onto and operate the paddle. So for the best part of two years she persevered, trying a variety of different straps and grips, until one day someone recommended she try a General Purpose gripping aid, a suggestion that would prove to be a game changer.
Jillian has since taken the kayaking world by storm, winning medals at a national level as well as competing internationally. She, along with her gripping aid, have a gruelling schedule, hitting the gym four times a week and the water at least once a day! And with Paralympic places at Tokyo still up for grabs, there is everything to play for.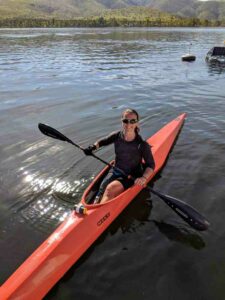 "Active Hands has given me the ability to take my hand deficiency out of the picture. They allow me the ability to grasp and hold my paddle and to train my right arm with the same level, intensity, and weights as my left. When doing group classes, including cross fit, I have much fewer modifications due to my lack of grasp and reprehension. I'd be lost without it."
Yemina aka The Can-Do Kid
Yemina is a young girl from Canada with cerebral palsy who, amongst other things, loves to read, hang out with friends and play outside. Her CP means that she has a lot of extra movement in her arms and hands though, and this affects her level of independence and makes anything involving hand control or grip a real challenge.
For years she and her family experimented with a variety of different aids, even creating their own, but none of them quite cut the mustard. However, once they came across Active Hands, they had an immediate positive feeling and so placed an order straight away. And sure enough, they proved an instant success; allowing Yemina to use both her bicycle and walker independently and safely, boosting her confidence exponentially!
Fast forward a few years, and Yemina now owns several pairs of our pink General Purpose gripping aids in size small (we also do a General Purpose Mini Aid for children age 5 and under), which she leaves with her various pieces of equipment, ready for action! As well as still using the aids to hold onto her bicycle and walker, she now also uses them to grip the bars of the treadmill and various pieces of gym equipment at school. Even during the years when the family were struggling to find aids that worked for her, Yemina never lost her tenacity or positivity, and it is this attitude that embodies the Active Hands spirit as we strive to help people fulfil their potential.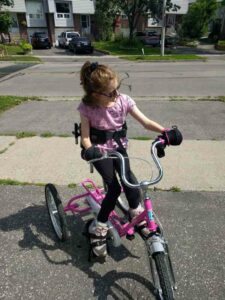 "[Active Hands gripping aids] have made a definite difference to her independence and well-being, in addition to giving me my hands back when taking her out for a bike ride or walk around the mall." – Yemina's mum, Shoshana
The More the Merrier
There really are way too many examples to fit into one article, but I'd be remiss if I didn't at least give a shout out to a few more people and some of the fantastic ways they use their gripping aids: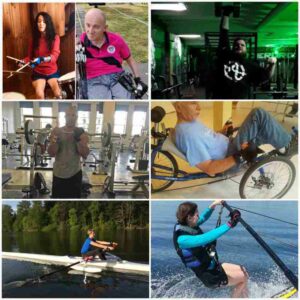 Michael– lack of grip due to injuries sustained whilst serving in the military, uses his aids in the gym!
José– lack of grip due to a stroke, uses his aids to help him in the gym and on his recumbent bicycle!
Adam– lack of grip due to cerebral palsy, uses his aids in the gym and when competing in England's Strongest Disabled Man!
Véronique– lack of grip due to finger amputation, uses her aids in the gym and when rowing for Team Canada!
Damien– lack of grip due to spinal cord injury, uses his aids in the gym and when competing in archery!
Bernadette– lack of grip due to Charcot-Marie-Tooth disease, uses her aids to paint and play the drums!
Rebecca– lack of grip due to surgery and treatment of cancer, uses her aids on her recumbent bicycle and to water ski!
So there you have it, just a small sample of people who one day took it upon themselves to get into sport/exercise/fitness. Whether that was in the form of a brand new activity they had taken a chance on, or a previous activity they had rediscovered their love for; the point is that they all took that leap and got involved. And I don't believe any of them sat there patiently waiting for the clock to hit midnight on December 31stbefore making that move.
"New Year, New Me" – it's a catchy slogan sure, but there doesn't have to be a set time to decide to make a positive change to your life, just whenever the time feels right for you. By demonstrating what these people have achieved we hope to send the message that it is never too soon or too late to try something new or to rekindle your love for something; all you need is the right mindset and the right tools.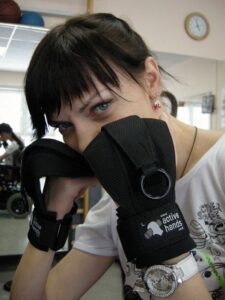 Gareth Herridge