Towards the end of the summer we were contacted by Emily, a personal trainer living in Pensacola, Florida. Emily works for a small, non-profit gym called The 7 Project which caters specifically for clients who have physical disabilities; focussing on enhancing their day to day quality of life via fitness, nutrition and support. Emily told us how the organisation's founder had discovered Active Hands after her injury, how our recently donated selection of gripping aids were now being used every day by clients at the gym and how she sees The 7 Project expanding in the future.
This is their story…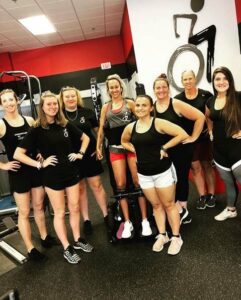 After suffering a cervical spinal cord injury whilst on a softball scholarship at college, Tara Blackwell knew that in order to maintain her quality of life and not allow her injury to define her, she would have to take a proactive approach to health and overall wellness. Upon leaving hospital Tara therefore focused on a combination of exercise and therapy, maintaining optimal fitness from her own home gym. Seeing first-hand the results this attitude and lifestyle was having, Tara realised she had the opportunity to make a genuine impact on her local disabled community, and so, after several years of planning and hard work, in April this year The 7 Project opened its doors. Named after the number Tara wore in softball, The 7 Project is based around the 7 core values of commitment, determination, faith, fortitude, support, vitality and wellness.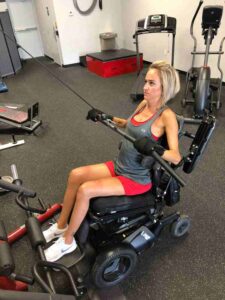 "Our hope is to provide our clients with a sense of normalcy, and to serve them with the challenge of perseverance. We aim to remove the stigma of the terminology 'disabled' and show that we are all capable in our own unique ways."
As a virtually brand new, not for profit organisation, The 7 Project is reliant almost entirely on community fundraisers and donations. There is a nominal membership fee for anyone who wishes to attend the gym in order to cover overhead costs and wages for the certified professionals who work there; but many clients find sponsorship with local businesses in order to cover these fees. And once you become a member, you don't just get access to the gym and all of the apparatus within, but also to secondary benefits such as nutritional guidance and peer support!
Open to anyone with a physical disability, in just a few short months The 7 Project has seen a steady build up of clients, as word spread throughout the community and people began to notice the impact their services were having on those who ventured in. From orthopaedic conditions to cardiovascular ones, stroke and brain injuries to spinal cord ones; The 7 Project strives to cater for all physical disabilities. They achieve this essentially by looking at a person's condition and then gathering information via a combination of research and discussions with that person's medical professionals. They are then able to adapt their services in order to incorporate the individual and provide them with a functional fitness programme that not only allows the client to reach their ultimate fitness potential, but also gives them quality of life in their day to day functionality. On top of the various accessible machines that can be found inside, The 7 Project also has many pieces of equipment that would be found in any other gym; things such as resistance bands, boxing equipment, free weights and medicine balls. There is also a complete freedom of choice, with clients able to choose whether they would like to work-out independently or whether they would prefer sessions with a personal trainer; the latter being by far the more popular option.
"We have multiple weight machines that are built for anyone in a seated position, which all of our clients are able to utilize thanks to the incredible gift of our Active Hands devices."
Tara Blackwell first discovered Active Hands whilst she was accumulating equipment for her home gym. A fellow quadriplegic and friend of hers had recommended them to her, and Tara quickly realised the vital importance of such aids when creating and participating in most exercises. And so, when coming up with the concept of The 7 Project, she knew Active Hands would be a "key ingredient" in allowing clients to achieve their optimal workouts.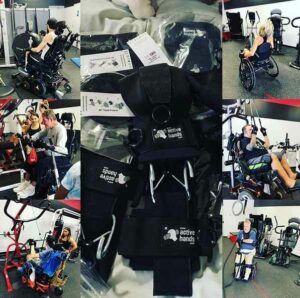 "The Active Hands equipment has allowed each and every one of our clients to participate in most to all exercise regimens provided here at The 7 Project. We have even noticed an increase in the number of clients who have ordered their own Active Hands equipment, so that they can come into the gym with their own or get use of them outside of the gym."
On top of the weight and pulley machines, Emily was excited to tell us that the gripping aids have also made a huge difference when it comes to workouts requiring free weights or barbells as they allow the clients to hold onto the equipment and perform all the necessary exercises with total independence! She went on to say that the General Purpose gripping aids in particular are used for the majority of exercises performed within the facility, allowing their clients to progress and excel.
With more and more people discovering them every day, the future looks bright for The 7 Project, and it is clearly a rewarding experience for all the staff and clientele involved. Tara's current focus is on reaching as many people as possible in the local area who are living with a physical disability. However, her long-term goal is to see them expand over the state and, hopefully one day, across the country; as she sees there is a dire need for adaptive facilities that provide comfort, safety, accessibility and normalcy to all those with disabilities. We wish them all the best in the future and are delighted to be playing even a small role in their success.
"Our clients are extremely grateful and appreciative when it comes to having the Active Hands to help them excel in the gym!"
For more information on The 7 Project, visit their website at https://the7proj.com/.
Gareth Herridge