There are very few examples of athletes who have competed in both the Olympic and Paralympic games. To be precise, or as precise as Wikipedia can be, there have only ever been 15 athletes who have represented their countries in both competitions and none who have done it so many years later. Damien Letulle aims to be number 16, and the first on the list to do it with the help of Active Hands!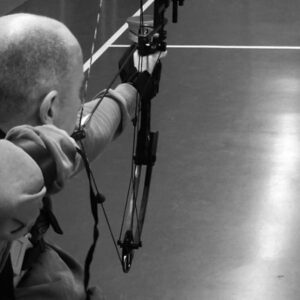 Back in 1996, Damien Letulle was the 23 year old rising star of French archery. Finishing 3rd at the European Championships in both the individual and team events solidified his place in the squad for the Olympic Games held in Atlanta that same year. And although he ended the Games without a medal, he climbed to number 26 in the world and had his sights firmly fixed on Sydney 2000.
However life had other plans, and the very next year, shortly after claiming the title of French Olympic archery champion, Damien suffered an accident that saw him break his neck, spend over a month in a coma and wake up as a tetraplegic.
"I sat on a skydome on the roof terrace of Insep (the French National Institute of Sport, Expertise, and Performance).It broke and I fell 5 meters down. I kept mobility in the arms, but not in the hands."
After losing the use of his hands and spending over a year in a rehabilitation centre, Damien decided to retire his bow and leave behind the world of competitive sport, moving back to Cherbourg. There he would spend years embarking on various sports-related ventures; everything from creating his own sports media website, to becoming an advisor to top athletes. This latter role saw him gradually return to the archery circuit as he acquired his state certificates, became a youth coach at his local club and eventually club president. Once again though, Damien felt that a change was necessary, and in 2018 he and his wife moved from the banks of The Channel to the west coast town of Saint-Nazaire.
But the archery bug that had infected him ever since he first picked up a bow at the age of 9 was still there all these years later, and so he teamed up with an engineering friend to create a specially adapted bow that fires arrows via a chin operated release system. As far as holding onto the bow was concerned, the solution to that was far simpler, an Active Hands General Purpose gripping aid!
As soon as Damien slipped the aid over his hand and tightened it around his bow, it felt both secure and comfortable. Gripping the bow like this felt completely natural, and he knew he had found the right aid to allow him to rekindle his love of archery. It was time to pay a visit to the local club; the Nazarite Archers.
Despite having not fired an arrow in some 20 years, the sensations and abilities quickly come back, and Damien soon draws a lot of attention to himself. Not content with simply competing for fun, his desire for high level competition quickly emerges and he begins to dream of the Paralympics.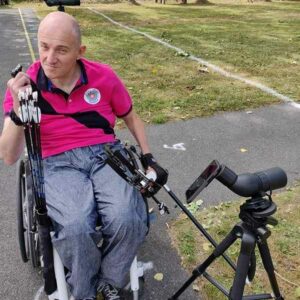 "I first thought of Paris 2024, especially since the archery competition will be held at the Invalides where I spent a year in rehabilitation. It would be a great opportunity to complete the loop."
However, after a string of successful events and with support from his former Olympic teammates, Damien begins to wonder if it is not too late to qualify for Tokyo. So he sets his sights on attending the selection camps and qualifying via a TQO (Olympic Qualification Tournament), which he himself admits will be tough, as he has quickly learnt that the level of excellence needed to qualify for the Paralympics is just as high as the level he needed to qualify for the Olympics all those years ago.
"There will be a continental TQO at the European Championships in Olbia.I will have to win to qualify for Tokyo.Otherwise, there will be a global TQO in Prague that will only be accessible to nations with no quota in the category.It will be necessary to be at least a finalist."
To go from Olympic athlete in 1996 to Paralympic athlete in 2020/2024 would be a truly remarkable feat for anyone to achieve. Damien is dedicated to achieving this dream and sees the willpower and enthusiasm necessary to deal with the everyday demands of spinal injury as huge assets in this. He currently trains for hours every day at the Nazarite Archers club, as well as travelling to Carquefou in order to train at the official 50m Olympic and Paralympic distance. And each and every time he aims his bow and fires an arrow, Active Hands is there with him.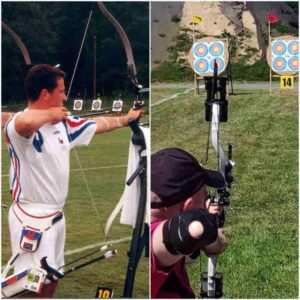 "It [is] a real pleasure that Active Hands can accompany me in this new adventure."
Gareth Herridge