Active Hands is proud to support a variety of charities, individuals and events in a number of ways. We understand all too well how a little help, at just the right time, can make the world of difference to someone. So when we were contacted back in May 2017 by Victoria Proctor, we were only too happy to help with her idea.
Victoria runs the Integrative Medicine Program at the University of Maryland Rehabilitation and Orthopaedic Institute. At that time, the institute ran a monthly support group for former SCI patients. Wanting to do something special for this group, Victoria decided to run an evening designed to uplift them and, "give them hope!" The night would present an opportunity for past patients to get together, support each other, enjoy some comedy, as well as take part in a raffle to win prizes intended to further encourage and motivate them in their continued rehabilitation.
Having heard great things about Active Hands from one of the physical therapists, Victoria reached out to us to ask if we would consider donating a pair of General Purpose gripping aids to be raffled on the evening, offering one person the chance to get to grips with a more active and independent workout routine.
Her feedback was fantastic….the raffle prize of a pair of General Purpose Gripping aids drew plenty of excitement and the event was a hit. Victoria wrote to tell us,
Your active hands [were] truly hot in the raffle containers! Providing such a gift is truly amazing because someone may once again be given a chance [of] increased freedom and independence.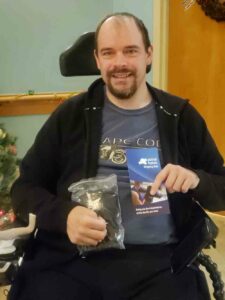 The night was such a success that it has grown to become an annual event, which Active Hands is proud to support year on year. In fact this year, we were pleased to gift a General Purpose gripping aid, a Small Item gripping aid along with two packs of zubits…a whole range of ways to support SCI patients back to independence.
Victoria created this event as she wanted her patients to have an evening to enjoy. Having great prizes that enhance the patient' lives, like the Active Hands gripping aids, make the event more special. She says,
"our patient population deserve the best and I am grateful that people like you help me to give them that."