General Purpose Mini Aid
$69.95
This item is sold as a single gripping aid (either left or right).
Buy a Mini aid and Active Hands will make a donation to the Back-Up Trust (see below)
Description
Perfect for little hands, Active Hands Mini aids are a colourful adaptation of our General Purpose aid for under fives. Many medical conditions can affect children's grip or hand function, from Cerebral Palsy to Guillain-Barré syndrome, Muscular Dystrophy to Spina Bifida, but with our Mini aids none of these need be a bar to having fun!
For many young children, Active Hands Mini aids are an essential extra for an adaptive tricycle, helping them hold onto the handlebars tightly and securely, but they might find them equally useful for a variety of other play activities.
Well they work as well as I could have hoped…His movement is much more controlled, he is stronger at pedaling (which is great exercise for him).  The teachers in his school, his parents, and of course myself could not be happier.  Thank you!!
Bob Majkrzak
Is the Mini aid right for my child?
Available in pink or blue, Mini aids fasten on the back of the wrist. This makes the job of fastening much easier for parents and carers. Download our instruction leaflet to see how to put the aids on.
For older children, see our General Purpose gripping aids, available in three sizes including 'Small', which usually comfortably fits children aged five to ten. See our size guide (in tab above) to find out which size is best for you.
Active Hands aids are both kind to the skin and made to last. Built from tough webbing and comfortable but durable neoprene (wet suit material) they're designed to withstand regular use, even for strenuous activities. All our aids are machine washable!
For each mini aid purchased Active Hands donates £2 to back-up kids and you will receive an orange 'Back-up' bug with your order. Back-up is a UK charity that supports those with spinal cord injuries. Click here for more information about the charity.
Size Guide
Use this size guide to find out which General Purpose or Mini gripping aid will best fit your hand and wrist.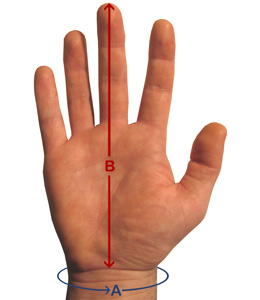 A = circumference of narrowest part of wrist
B = length from crease line (where hand joins wrist) to tip of middle finger
A: Wrist
| | | | |
| --- | --- | --- | --- |
| Mini: | Small: | Standard: | Large: |
| 120mm – 140mm | 135mm – 150mm | 145mm – 185mm | 180mm – 220mm |
| 4.7″-5.5″ | 5.3″-5.9″ | 5.7″-7.2″ | 7.1″-8.7″ |
B: Wrist to Middle Finger
| | | | |
| --- | --- | --- | --- |
| Mini: | Small: | Standard: | Large: |
| 120mm – 140mm | 135mm – 175mm | 175mm – 210mm | 195mm – 280mm |
| 4.7″-5.5″ | 5.3″-6.9″ | 6.8″-8.3″ | 7.7″-11.0″ |
(n.b. measurements are approximate)
Rough size guide by age:
| | | | |
| --- | --- | --- | --- |
| Mini: | Small: | Standard: | Large: |
| Children up to age 5 | Over 5s and petite adults | Adults | Those with larger hands |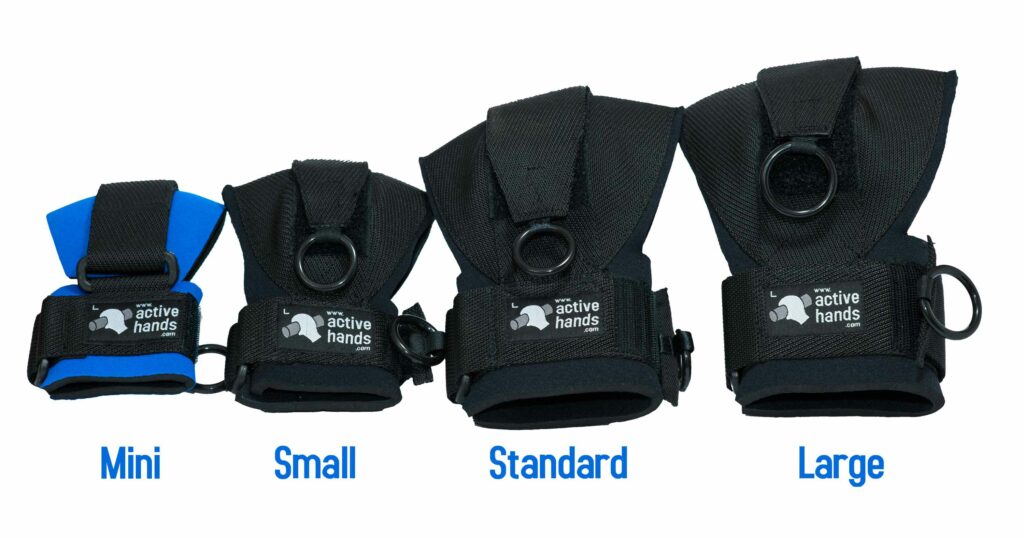 If you have specific requirements which are not met by any of our sizes, we may be able to manufacture a bespoke aid to suit your needs.
Best gripping aid for me?
Active Hands now sells a wide range of gripping aids for a wide variety of activities. To help you decide which gripping aid is right for you, please read the guide below.
At a glance…
How does your disability
affect you?
What do you want
to grip?
Which aid is right for you?
Reduced hand function / Poor finger strength

Tremors or involuntary movement

(This may include people with
Spinal Cord Injury, MS, cerebral palsy,
Guillan-Barré Syndrome, muscular dystrophy,
spina bifia, stroke survivors and other
similar disabilities).


Gym Equipment
General Purpose gripping aids
D-ring gripping aid
Looped exercise aid
Hook aids
Gym pack/Gym pack deluxe
DIY tools
General Purpose gripping aid
Kitchen implements
General Purpose gripping aid
Sports equipment; rowing, kayaking etc
General Purpose gripping aid
Looped Exercise aid
Hook aids
Gardening tools
General Purpose gripping aid
Winter sports equipment such as adaptive skiing
Winter Sports aid
Small diameter item: pen, make-up, toothbrush
Small Item gripping aid
Adaptive tricycle/children's walking frame
General Purpose Mini aid (for children under 5) or General Purpose gripping aid
Missing fingers Missing parts of hands

This may include people with dysmelia (conditions from birth), or amputation, illness or injury later in life.


Gym equipment
Limb Difference gripping aid
D-ring gripping aid
Looped exercise aid
DIY tools
Limb Difference gripping aid
Kitchen implements
Limb Difference gripping aid
Sports equipment; rowing, kayaking etc
Limb Difference gripping aid
Gardening tools
Limb Difference gripping aid