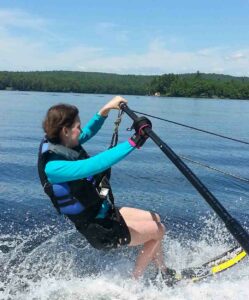 Rebecca Hopkins has always loved sports and outdoor activities. She was a keen soccer player as a child. She ran her first road race aged 12 and came first in her age group just three weeks after brain surgery to remove a tumour. A keen cross country runner she placed in the top 20 in the National Junior Olympic competition and earned all state honours three times in her high school.
Rebecca also began riding her bike in the Pan Mass Challenge to raise money for the "Jimmy Fund": a national organization that raises money for kids fighting cancer. Over a two-year period she raised over $24,000 for the cure.
But Rebecca's greatest love is water skiing. She first learned to ski around age six and over the years graduated from two skis to one and finally bare foot.
Rebecca has always enjoyed working with children and graduated from college with a degree in early childhood education. In 2012 shortly after spending a year teaching in Japan, Rebecca returned home and began experiencing severe headaches. The MRI showed the brain tumour had returned and she would require a second brain surgery and radiation. The surgery and radiation left her partially blind in her right eye and partially paralyzed in her right leg and arm. In short Rebecca would no longer be able to water ski, bike or do many of the other things she loved to do.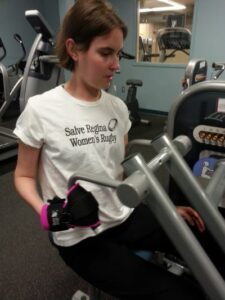 Rebecca joined the YMCA "Live Strong" program that helps to rehabilitate people recovering from cancer. The target was to work on strengthening her right-hand side. As Rebecca did not have enough gripping strength her parents had to hold her hand onto the different exercise equipment.
After spending a while looking Rebecca's mother came across Active Hands while searching the web. In an instant she realized that it was just what they were looking for to give Rebecca back her independence, help her in the gym and get her back to her love of water-skiing.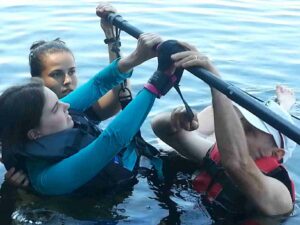 Rebecca water-skis with a specially adapted system. She is attached to the training pole by her Active Hand gripping aid, a mountain climbing harness attached via a heavy duty karabiner and a cord: providing her with a three-point connection. This protects her from an uncontrolled fall yet still gives her the responsibility for controlling the ski.
Mark, Rebecca's father says:
"Once again I can't tell you how much Rebecca looks forward to skiing, it makes her feel normal and the joy it brings her is priceless, without the Active Hand she would just be another kid sitting on the side-lines with only memories about what life was like before cancer."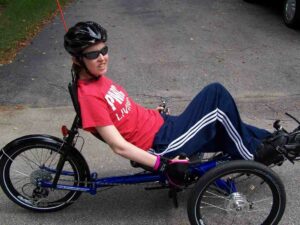 Rebecca also uses her Active Hands gripping aids with her specially designed bike. We hope that she can use it to try other activities that our customers have told us about such as climbing or off-road riding. Why not take a look at our how-to page for more ideas?