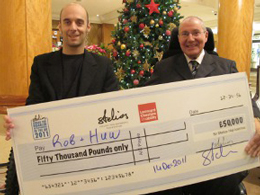 Active Hands were deeply saddened to hear that Huw Thomas from ProMove passed away last Tuesday evening, 23rd September 2014.
Huw had Muscular Dystrophy and we at Active Hands were honoured to have been joint winners of the Disabled Entrepreneur award with Huw in 2011. His company, ProMove, makes slings to transfer disabled users.
Having retired from a career in science Huw found he was not ready to stop working! His design came from finding a personal need for a new way of being transferred manually from his wheelchair to other places.
Having created a great design Huw expanded his range to help others of all ages, from young children to 65 stone adults. His designs are used by families, schools and the emergency services.
Huw was an inspiring man and our thoughts are with his family and those at ProMove at this difficult time. We wish ProMove UK Ltd every success as they continue to operate without Huw.