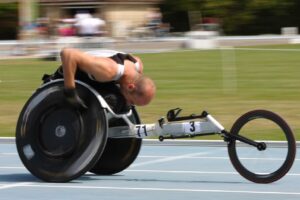 Active Hands are excited to announce that our director Rob Smith has been selected to represent Team GB and NI in the T52 category for the 100m, 400m and 1500m races in the IPC European Championships. The Championships are being held in Swansea, Wales in August. Rob is delighted to have been selected after a number of years of hard work and is very pleased to be representing his country in these races.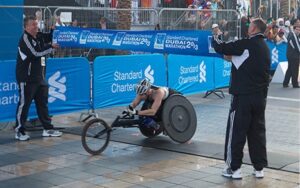 Rob has had a very successful year racing and currently holds all the British records for track races from 100m to 10,000m. He also holds the British records for half and full marathons on the road.
Rob designed Active Hands gripping aids after he suffered a C5/6 incomplete spinal cord injury. He was frustrated by the limitations caused by his poor hand function and the lack of suitable equipment available to help him, so he began designing a range of aids to enable him to live a more independent life. He tracked down the necessary materials and explained to his mother how he wanted the aids put together. She then made them on her sewing machine at home. The company has grown from there to supplying gripping aids around the world. Rob continues to develop more designs to help him both in the gym and in daily life.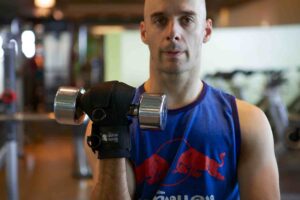 Without his Active Hands gripping aids Rob would not be able to train and work out in the gym at the same level. He mainly uses them on the weights machines, pulley machines and free weights. His gym training is vital to his track performance.
Rob also uses his gripping aids in his workshop to hold tools while undertaking maintenance to his racing chair or when building his racing gloves.
Active Hands wish Rob every success in the IPC European Championships.