Ben Clark is the man behind the YouTube channel 'AdaptToPerform' and head of strength, conditioning and sports science for a performance swimming club, working with some of the country's best swimmers. This month, we've been chatting to him about his work, how and why he started his channel and what he hopes to achieve, for himself and others.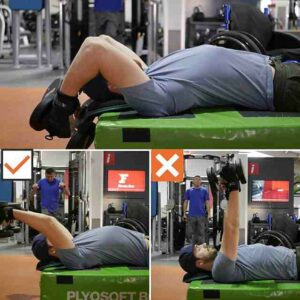 In 2010, Ben ran into the sea, "Baywatch style", and dove into a wave where the water was shallower than he expected. He hit his head and broke his neck, resulting in paralysis from below the chest, including his hands. Drawing on his 10 years of experience as a professional swimmer, he was determined to get through his recovery with physical and mental strength. "Knowing already how to deal with failure etc massively helped me."
Keen to make the most of the wealth of information on the spinal unit, it wasn't long before Ben was in the gym and looking for ways to regain his strength. It was here that Ben came across Active Hands gripping aids. "I thought they were a great yet simple design and over the years have found how well made and durable they are!"
Once out of the unit, Ben continued to enjoy fitness and soon decided to start his YouTube channel. "I've always had an interest in sports, health and fitness and getting to share my knowledge is very rewarding." Through his social media channels, Ben aims to, "adapt workouts, nutrition, advice, motivation for any and all situations" so that working out and staying fit is accessible for all.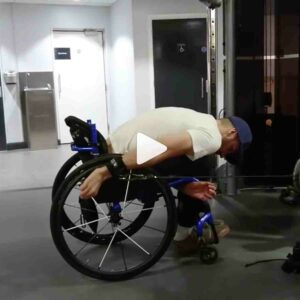 Active Hands' range of gripping aids are instrumental in enabling Ben to workout in a regular gym, without the need for specialist or adaptive equipment. Using a combination of the General Purpose, Looped Exercise Aids and D-Rings, Ben's workouts are varied and challenging.
"When I first started out I just had the [General Purpose] aids. These are great and were the perfect starter. After a while I got the looped exercise aids. These were a great addition. Taking the weight off my hands and into my wrists for cable machines meant I had more control and [was] able to step up my routine. The D-rings are a new addition but a welcome one. The added durability is really good. I still use all 3 [gripping aids] and 7 years later the gloves still look good! [I] put them through some serious abuse!"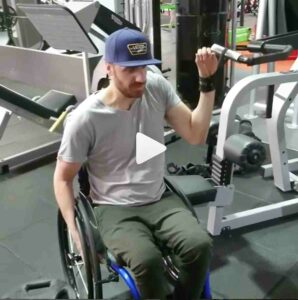 Ben posts workout videos, hints, tips and inspirational photos to his instagram, facebook and YouTube channels and is gaining followers from all over the world.
"I just believe life is for living. To some exercise might seem pointless or just for looks. But for me it gives a sense of purpose and allows me to live my life to the full! You get both a rush of endorphins and a meditative effect. You basically can't lose!"
So what's next for Ben? Right now, he is working on qualifications to support his work. He recently passed level 1 swim coaching and is preparing for level 2. He is also completing his personal trainer qualifications with the aim of enhancing his work with the swimming club and also his workout videos.
To follow Ben, find him on YouTube, facebook, instagram or twitter under 'AdaptToPerform'.
Ben's videos are fantastic examples of what can be achieved, in partnership with Active Hands gripping aids, without the need for a specialist gym or adaptive equipment. With a little bit of knowledge, some motivation and a gripping aid or two in your bag, any gym is accessible to you.
If you would like to share your pictures or videos of your workouts, we'd love to see what you're up to. Send them to jo@activehands.com and let's spread the word!
Jo Smith