Molten Rock and Active Hands are two companies with a similar aim. Formed in 2004, Molten Rock grew out of a group of adventurous wheelchair users who were tired of equipment which accentuated their disabilities rather than reflected their interests. Instead, the company developed a range of equipment to enable users to get out into the great wide open despite their limitations.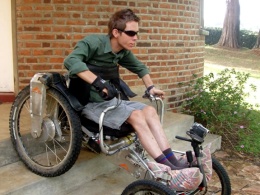 By comparison the same frustration with physical limitations and existing equipment was what kick-started The Active Hands Company. The ability to grip objects is one of humanity's greatest gifts and our gripping aids are designed to give back the independence that injury or illness might have threatened to take away.
It is fitting, then, that Molten Rock and Active Hands products should be used together, on a number of 'offroad trips' across the world. In 2006, for example, the Molten Rock team joined the Driving Home Expedition, a journey over the length of Africa, and made use of Active Hands aids to help grip their handlebars along the way.
Molten Rock's aim is to develop products that embody the adventurous, outdoors spirit, and take a proactive role in changing perceptions about assistive equipment. With Active Hands, they certainly are doing that!
For more information on Molten Rock products check out their website: www.moltenrock.co.uk