Whilst the advent of online shopping means we're now able to ship Active Hands products to anywhere in EU, some of our aids have recently made a trip much further afield!
In October 2006 a team of 53 cyclists travelled over 5,000 miles east to take part in The China Bike Ride, an event organised by the Regain Trust. The cycling challenge, clocking in at over 250 miles, presented a fair challenge to all participants. But none more so than the six tetraplegic athletes who were riding hand bikes. However, with beautiful views along sections of the Great Wall of China, and a triumphant ride into the centre of Beijing through Tiananmen Square to cap it off, it was well worth the effort.
Of the six disabled hand cyclists who took part in the challenge, three used Active Hands gripping aids to help them ride. Pictured are Piers Stone (above) using Standard Adult aids to grip the handlebars of his cycle, whilst Rob Smith, (below) is seen using Looped Exercise Aids.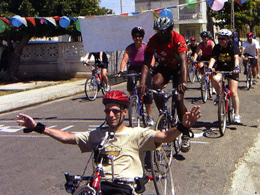 As well as being a fabulous trip, The China Bike Ride was also a huge fundraising success, raising over £70,000 for the Regain Trust. Regain is a charitable organisation dedicated to improving the independence of British men and women who have become tetraplegic as a result of a competitive sports injury. Click to view the Regain website.