Gruelling is not a word to apply lightly to a charity bike ride, but during Regain Trust's recent adventure competitors were certainly made to work hard for their reward.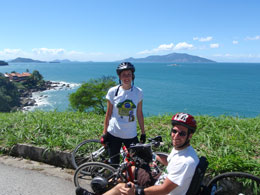 Regain is a charity for sports tetraplegics, and organises bike rides to help raise awareness and vital funds. This year's adventure took over forty competitors, including three hand cyclists and one Lady Penny Mountbatten, to Brazil, on a five day, 250 mile road trip from Sao Paulo to Rio de Janeiro. Fabulous views there were, but as handbiker Rob Smith explains, the conditions were far from idyllic.
"The first two days it chucked it down, leaving us all cold and soaking wet. What's more the sand used for sandpaper comes from this part of the world and didn't we know it! The sand got picked up by the wheels and went all over the place, wearing our brake pads down so quickly that most of us had to replace them. I've done Regain bike rides before to Cuba and China, but this was definitely the hardest."
Rob Smith is not a stranger to adventure. An injury in 1996 which left him a tetraplegic has not stopped him travelling the world, playing wheelchair rugby in the GB development squad and completing handbike challenges all over the world. Technology has certainly helped Rob along his way, for example the small battery powered motor which helped him keep up with other cyclists in Brazil, but whenever there hasn't been a product to help him out, he's done his best to invent one.
"After my accident I found my limited hand function really frustrating, but what was worse was the lack of relevant equipment to help me grip things. So, I used some basic engineering knowledge to design some aids to help me. Active Hands gripping aids, which are now available to anyone, have helped me do loads of things I thought I might never do again, like DIY, skiing, using gym equipment and, of course, holding the handlebars on my handbike!"
Following the bike ride there was more than a rest and a hot shower waiting for Rob in Rio de Janeiro. At the top of Sugarloaf mountain, overlooking the harbour, one of the seven natural wonders of the world, he proposed to his girlfriend Jo. For the record, she said yes!
Meanwhile, Active Hands gripping aids continue to help people achieve independence in their lives by allowing them to take part in a wide range of activities. See our video for more details.