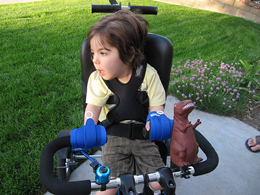 We love it when people contact us to let us know how our Active Hands aids have made a real difference in their lives. We recently heard from another satisfied customer who purchased a pair of our mini aids for her son. She says on her blog www.prayfornathan.org:
I wanted to share another adaptation that I am really happy with. I found this through an ad on facebook and decided to check it out. I am really glad!

Even though Nathan keeps his hands fisted, when he wants to hold something, he lets go. This is the dystonia – his brain sends the opposite message of what he wants to do. When he wants to reach out and grab something, his hands curl into tight fists. If we put something in his hands and he wants to hold on, he lets go. When we put him in the tricycle, this was a problem as his arms would pull tightly back against his body and his hands would let go of the handles.

This is where Active Hands Gloves come into the picture. It takes a few seconds to put on these gloves, and they basically make it so he CAN hold on to stuff for as long as the gloves are on. They work FABULOUSLY.

It can also be used for lots of other things – holding on to a pen, holding on to drumsticks or other musical instruments, holding on to crayons so he can color…basically, anything that requires holding anything, this facilitates. Even holding a spoon to facilitate self feeding!

I am really happy with this and thought I should pass on this adaptation. Enjoy!
We think our gripping aids are great, but obviously we're biased! We're glad that many of you feel the same and we hope that you are enjoying all that they allow you to do.