In 2008 Michael Lewis was serving as a section Commander in the 2nd Battalion Parachute Regiment when he was involved in a blast while under heavy fire. His platoon was quick to act and evacuated him to a helicopter landing spot from where he was taken to Camp Bastion to have his injuries assessed. Extensive damage was done to his left arm and right leg – he suffered multiple fractures, nerve and muscle damage.
Michael underwent surgery to reconstruct his arm and leg with skin, nerve and bone grafts. He has undertaken many months of physiotherapy to learn how to use his arm and to walk again. The damage to his median nerve has resulted in lack of sensation in his hand and the muscular surgery means that his hand tires easily when gripping.
Michael has had to adjust to his new life with limited hand function. Being part of the Parachute Regiment was a very physical and robust life. Before his injury he regularly undertook training and weight-lifting. After his injury the lack of sensation and weakness in his hand meant that he could not lift a kettle let alone a 40kg dumbbell. He was missing the discipline of training and being able to maintain his high level of fitness.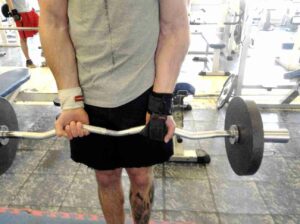 He was introduced to Active Hands gripping aids in 2009 when he was at Headly Court (Defense Medical Rehabilitation Unit). He says:
"I was amazed that something so simple could be so effective. It gave me the ability to grip as well as having the confidence to hold a dumbbell above my head and even do pull ups when before my fingers would slip off the pull up bar."
Active Hands gripping aids have allowed Michael to continue training at the level he reached before his injury. He uses his gripping aid everyday and says it is hard wearing.
"when people at the gym see my arm they are amazed that I train to the level I do and stay in such good shape. Without Active Hands I wouldn't be where I am today."
Michael and his fiance, Anya, are getting married in June this year. Active Hands wishes them many congratulations and a long and happy marriage.
Michael uses his gripping aid to maintain a high level of fitness that is vital not only to his physical wellbeing but also to his mental wellbeing. What improvement could you make to your lifestyle with an Active Hands gripping aid?