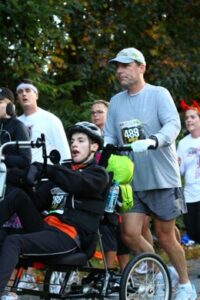 Kevin is 20 and has Cerebral Palsy with Dystonia.
In October he completed the Marine Corps marathon with his Dad.
Two statements that you would not expect to see together – but this is Kevin Enners and can't is not a word he likes to use.
Kevin died twice in the first few minutes of his life and the resulting oxygen starvation left him with cerebral palsy.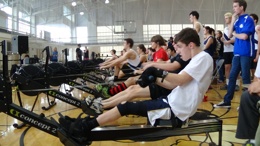 From a young age he told his father, Rich, that he wanted to race but this was not straightforward due to the nature of Kevin's disability. Together they modified a three-wheeled recumbent bike enabling Kevin to participate in road races (Kevin steers and pedals, Rich pushes). But Kevin's Dystonia (involuntary limb movements) kept him from maintaining a firm grip on the handlebars.

Kevin's Dad, Rich, says:
"We tried lots of different devices and found things that helped but nothing that really solved the problem, which was frustrating for Kevin. But as he is such a determined young man it spurred us on to try and find something that could help him feel more comfortable."

"Through the years, we have worked to develop adaptable solutions for the bike and erg. For his hands we initially started with bandages around his wrists to help him grip, then progressed to using wrist supports and lots of Velcro. This worked for a while, but they always wore out eventually and I needed to keep making new ones for Kevin. Once we had tried the gripping aids from Active Hands we never looked back, and have been using them ever since."

"We are big fans of the gripping aids. We have told as many people as possible about them because they have made such a big difference to Kevin's sense of control. They are well-designed and high quality and can help people to undertake challenges they might not have thought possible."
Kevin adds:
"The gloves are great; they give me control and confidence."
Having found a solution for his grip Kevin and Rich got stuck into their training for the Marine Corps Marathon. Kevin was sponsored by the Push America Team, a non-profit organisation who provide financial support for disabled people enabling them to participate in challenges.
Kevin and Rich competed in the Marine Corps marathon in the autumn. They successfully managed to complete the course, even though the last uphill stretch was a challenge. In Rich's own words:
"Kevin and the gloves did awesome – there was never any doubt."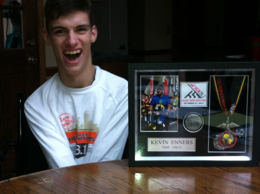 Kevin continues to compete in road races alongside indoor rowing and cycling with his Dad. He has just completed a 2000m indoor rowing race and beaten his personal best – not satisfied with that he resumed training the very next day!
Kevin doesn't use the word 'can't'. His determination has lead him to pursue his love of racing. What about you? Could Active Hands gripping aids help you to pursue something you would love to do?