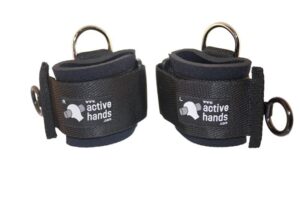 The new D-Ring aids from Active Hands are primarily designed for use in the gym. The way that cable/pulley equipment is set up means that the range of movement can be limited when used from a sitting position (such as in a wheelchair). When pulling up from a ground position the stiffness of the attachment handles can restrict full range of movement. In addition to that the handles are often uncomfortable to hold while performing exercises.
The D-Ring aids allow direct attachment to the karabiner on the cable. This bypasses the rigid and uncomfortable handle and allows direct connection to the cable resulting in a much more fluid action. This gives a fuller range of motion and enables users to pull directly from the wrist. For some exercises being able to pull from the wrist is an advantage, especially if you have a hand weakness.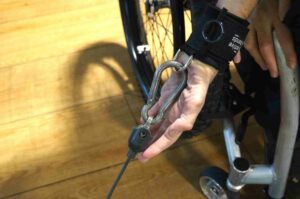 In addition to being a benefit to those in wheelchairs the D-Ring aids also allow those with a limb difference affecting their hand to take part in exercising at the gym.
Like other Active Hands products the D-Ring aids are lined with neoprene for comfort and grip. They are fastened with the same strong and durable webbing. The D-Ring aid is also fully machine washable.
The D-Ring aid utilises the same ring and Velcro method for fitting, allowing users with weak fingers to put the aid on independently. The presence of the large plastic ring allows the user to insert a finger into the ring and pull the aid tight ensuring a safe fitting without slippage. The D-Ring is attached stiffly to the wrist section to reduce movement when attaching to the karabiner.
The D-Rings are available in our online shop. Also available is a new Gym Pack Deluxe which contains a pair of D-Ring aids along with our other most popular gripping aids.