As the Paralympics continues to amaze us all, we would like to bring you the story of Active Hands' user, Zak Madell: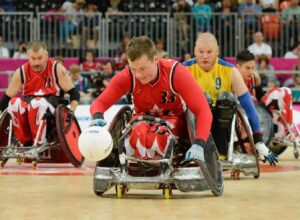 Zak was born in the Canadian province of Alberta but now resides in neighbouring British Colombia. When he was 10 years old he lost his fingers and legs to a septic staph infection. A lover of competitive, fast-paced sports, Zak tried out sledge hockey and wheelchair basketball before discovering his true calling in wheelchair rugby, and he's never looked back since! Despite having only played for a year at the time, Zak was chosen to represent Canada in London 2012 and proved to be the wildcard of the tournament, helping them win silver. In 2014 he was voted MVP in both the World Wheelchair Rugby Championships and the Canada Cup International Wheelchair Rugby Tournament. A year later he helped lead the team to its first gold medal in 13 years in the Toronto 2015 Parapan American Games, and was Team Canada's flagbearer during the closing ceremony. Off court, Zak is an athlete ambassador for the Paralympic Foundation of Canada's 'Champions Journey' fundraising campaign and also gives his time to The War Amps of Canada.
Zak relies on his Active Hands aids in the gym as they allow him to grip, lift and pull a variety of weights and machines, enabling him to increase his strength, endurance and power which are integral to his game. Playing as a 3.5 (the highest functioning rank on court), Zak is able to control and dictate play, with his all-round game being vital to Team Canada's hunt for gold!