Today we bring you the story of Australian swimmer Rachael Watson. She has competed in two races so far, 150m individual medley and the Mixed 4x 50m Freestyle Relay, without medalling but has two more races to come this weekend. We wish her all the best.
Rachael Watson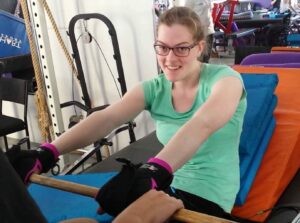 Rachael was born and raised in Queensland, Australia. At the age of 2 she was diagnosed with spastic diplegic cerebral palsy. Rachael initially took up swimming as a form of physiotherapy and pain relief but quickly found she had a natural talent for it and in 2011 began competing in the S8 category. Then in 2013, she acquired the muscle-weakening condition, Guillain–Barre syndrome. Determined not to be beaten by this crushing setback, Rachael learned to swim again, a physically and emotionally exhausting process which required her to wear a life jacket for several months. In 2015 she was reclassified as an S4 swimmer and has since broken Oceanic records in the 50m, 100m and 200m freestyle, and the 50m butterfly. She was spotted by coaches of the Australian Paralympic Swimming squad at the 2016 Australian National Championships when she narrowly missed out on the world record in the 100m freestyle. A few months later she made her international debut at the IDM Berlin Open, winning the women's 50m freestyle and proving she has what it takes to compete for gold at Rio.
A keen volunteer, Rachael currently helps out at the Children's Hospital Foundation. In 2011 she was named the Queensland Young Volunteer of the Year. She is also a music lover and achieved honours in piano and music theory from the Australian Music Examinations Board before her Guillain-Barre syndrome changed her hand function.
Due to her limited grip and muscle weakness, Rachael depends on her Active Hands aids when in the gym, as they allow her to make full use of the machines on offer. This enables her to improve her fitness and stamina levels, ensuring a peak performance when she gets into the pool in Rio!