Mandip is one of the stalwarts of disability sport and is about to take part in his 3rd Paralympics for Team GB. Recently he was good enough to take some time out of his busy schedule and answer a few questions I put to him over Facebook:
Mandip Sehmi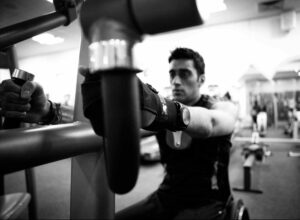 Spinal cord injury level, cause of injury and year of injury?
C6/7 Road traffic accident in 2000.
Fun fact about yourself?
I love football and I'm a huge Liverpool fan.
Sport competing in?
Wheelchair Rugby.
How did you first get into this sport?
I was introduced into Wheelchair Rugby while in hospital at Stoke Mandeville Hospital by Bob O'Shea who was the captain of the GB team leading out to the Sydney Paralympics. He used to run mini sessions of the sport as part of the hospital rehab program along with another coach called Jim Kelly. It was by far the most enjoyable sport I tried!
Biggest achievement(s) in this sport?
I have been part of the GB team for 11 years. I'm a double Paralympian, have numerous European medals but for me, the highlight of my career has been representing my country at a home games! London 2012 was the most amazing experience ever! Something that will stay in my heart forever!
How did you first hear about Active Hands?
I trained with Rob Smith the designer of Active Hands.
What were your initial thoughts when you first started using the gripping aids?
It gave me a sense of freedom in the gym, I was able to do so much more.
How do you think Active Hands has helped you progress as an athlete?
Some of the exercises I do just wouldn't be possible without the grips. I'm able to lift so much more than my hands can hold with them.
What does representing your country at Rio mean to you?
It's going to be my third games, I still feel so honoured to wear the GB flag on my chest.
Main positive(s) of being a Paralympian?
Representing your country at the highest level of your sport!
Any negative(s) of being a Paralympian?
You have to be committed; I've missed so many birthdays and weddings.
Any thoughts about the future, after Rio?
None, I'm trying to focus on the games.
What advice would you give to someone looking to get involved in disability sport?
Sport helped me overcome my injury, it helped me get stronger and be more confident. You'll make great friends who will help you within the sport.
Over the last few days we have brought you the stories of 4 athletes, from 3 separate continents, competing in 3 different sports, at 1 global event, and each of them using Active Hands aids to help make their Paralympic dreams a reality. We are proud to have been able to assist these athletes on the road to Rio and will hopefully assist many more in future Paralympic Games. We hope every reader will join us in wishing Joanna, Zak, Rachael, Mandip and all those competing, a hugely successful and positive Games that will electrify the millions of viewers around the world and inspire the next generation of athletes to get out there and get active!
Gareth Herridge