As previously reported, a few months ago Active Hands was selected as one of five UK based businesses who would have the exciting opportunity to take our unique product to the Pitch at The Paras event in Rio where we could showcase it to high profile individuals and members of the Brazilian disability aids market. Last month myself and Simon Lyons flew out to Brazil to represent Active Hands at the event and also soak up some of the Paralympic atmosphere which I quickly found had spread over the entire city!
Indeed from the moment I stepped off the plane in Rio, I was confronted by the unmistakable buzz of Paralympic fever: there were posters plastered on buses and in tube stations, street vendors selling *ahem* 'genuine' gold medals and an endless procession of supporters, both foreign and domestic, proudly wearing the colours of their home nations. It seemed as though nowhere was left untouched by the infectious excitement that the Paralympics had brought! In fact it would have been easy to get swept up in it all and forget that in a couple of days Simon and I had to present and demo Active Hands' gripping aids to an auditorium full of people!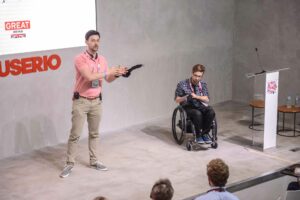 The Pitch at The Paras event took place on September 12th at British House, the central hub for all things Team GB, where athletes, coaches, media and various other professionals could be found having a bite to eat, giving interviews or simply relaxing with a game of table tennis on the sun-drenched balcony. And after spending several moments taking all this in, Simon and I were quickly whisked off with the other business representatives to meet and display our products to the British ambassador in Brazil and HRH Prince Edward!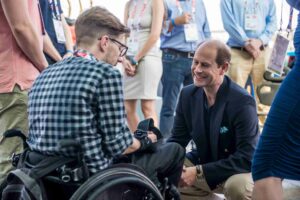 After that we were taken into the auditorium where a number of Paralympic professionals, including Team GB athletes Jody Cundy and Phil Hogg, spoke passionately about the importance of disability sport. Then it was straight onto the main presentation, which was set out as a Dragons' Den type of affair, taking place in a packed room, with each company presenting their product to a panel of judges. We each took to the stage to talk about our product, demonstrate its capabilities and potential, and then have a brief Q&A with the judges and audience, before the judges went away to deliberate. During this interlude we were approached by a number of professionals whom, after seeing the potential of our product, were excited at the prospect of introducing them into the Brazilian disability market. It seemed that the judges were equally impressed, commending the user-friendliness and simplicity of our gripping aids and awarding Active Hands third prize, an extremely pleasing result, especially given the high level of competition!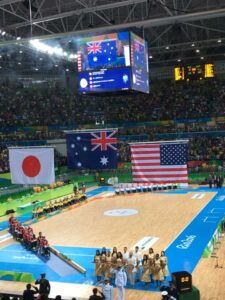 The remainder of my time in Rio was consumed with getting to see as many Paralympic events as possible whilst wading through the sea of people that swept across the Olympic Park every day. From swimming to cycling, boccia to basketball, tennis to track & field; there really was a sport for everyone to get behind and cheer. My personal highlight was watching the wheelchair rugby gold medal match between Australia and the USA; a truly nail-biting final which went into double overtime and epitomised everything exceptional about disability sport. Experiencing the jubilant, passionate and unmistakably Brazilian atmosphere in the stadiums is something that will stay with me for decades to come and just shows the meteoric rise in prominence of the Paralympic Games and the undeniable change in perception at the concept of 'disability'.
Gareth Herridge