With the Olympics now wrapped up and the Paralympics about to explode into action, excitement around the globe is spreading as the eyes of the world once again turn to Rio. After an initial slow start to ticket sales, a sudden surge has meant that over a million have now been acquired by eager spectators and many events are sold out; ensuring there will be a lively, spirited atmosphere to hopefully rival that of London four years ago. I took this as an ideal opportunity to focus on a few of the Active Hands users who will be among the thousands of athletes competing for gold in this, the biggest disability sporting event on the planet.
Joanna Butterfield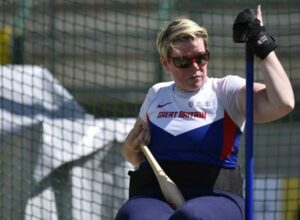 Joanna was born in Doncaster in the UK but later moved up to Glasgow where she served as a civil servant in the British Army. In 2011 she developed a spinal tumour which resulted in her being quadriplegically paralysed from the chest down with weakened arms and limited finger function. Determined to remain as active and independent as possible, Joanna took up wheelchair rugby as soon as she was discharged from the Glasgow Spinal Unit, and before long was vice captain of the Caledonian Crushers. In 2014 Joanna decided to make the switch from rugby to field and was classified to compete in the F51 club and discus throw. That same year she was selected for the GB squad to compete at the IPC Athletics European Championships in Swansea where she won gold in the club throw, setting a new European record of 17.68m. She followed this up the following year by winning gold at the IPC Athletics World Championships in Doha, cementing her place at the Rio Paralympics.
Not only does Joanna use her Active Hands aids in the gym but she also relies on her General Purpose Gripping Aid when competing, using it to hold onto the static pole with one hand whilst throwing the club/discus with the other. It is a vital part of the kit she will be using in Rio and can hopefully help her bring home the gold!
"Build a good team around you, work to be the best version of you and never give up."

Joanna Butterfield
Gareth Herridge