An international West Midlands wheelchair athlete who designs and manufactures gripping aids for people with disabilities is hoping to expand his company's global reach after winning the opportunity to pitch his unique products to a host of investors next month in Rio, Brazil.
UK record-holder Rob Smith, who founded Birmingham-based Active Hands Ltd, will present its gym pack, which comprises exercise and gripping aids for people with arm and hand disabilities, to a panel of business leaders in the hope of securing orders and attracting distributors across South America.
He is one of just five UK businesses that have been selected to take part in the event at the British House in Rio de Janeiro after he won the Pitch at the Paras competition, run by Department for International Trade Brazil and Innovation Forum.
Forty-year-old Rob, who lives in Leamington Spa with his wife Jo and three-year-old son Jacob, said he was excited to have the chance to showcase his products at a time when all eyes are on sporting excellence in Brazil.
Rob said: "We are thrilled to represent our products and country at the Pitch at the Paras event. Exporting is GREAT and has enabled us to support disabled athletes around the world."
"It will mean we can get information out to end users about our products so they can buy direct from us. We would also like to find a number of new distributors and resellers to sell our products for us into those markets. The Department for International Trade has connected us with fantastic opportunities to grow our global sales."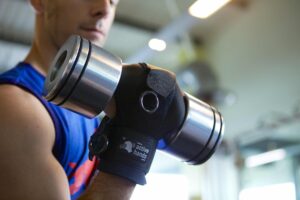 Rob began to develop gripping aids following a fall in 1996 in which he suffered devastating spinal injuries. His injuries led to a nine-month hospital stay.
"My hand function was severely affected by the spinal cord damage, so holding any items was nearly impossible," he said. "I couldn't find any products on the market that allowed me to grasp items in the gym and other areas of life, so I invented my own gripping aids with the help of my mother Marion and her sewing machine."
He began to play wheelchair rugby, winning UK and European club honours as well as being selected for the GB development squad, and then decided to try wheelchair racing.
Now a T52 wheelchair racer, he has won the Dubai marathon four times and has represented team GB in the European championships, winning a silver medal in 2014 in the 1500m. He has also represented team GB at the IPC marathon road race for the World Cup and world championship events and holds the T52 British record for every distance on the track and on the road from 100m up to marathon.
With sister Mel Burley and dad Trevor Smith, Rob has built up the company since participating in wheelchair sports, following encouragement from fellow wheelchair rugby team members.
In 2007, Active Hands became a limited company and in 2011, Rob won the Disabled Entrepreneur of the year award. But it was 2012 that provide to be a huge launchpad for the company.
Rob said:
"It was a stepping stone year for us, with London hosting the Olympic and Paralympic games, which enabled us to promote our products to a more global audience particularly those involved in disability sport."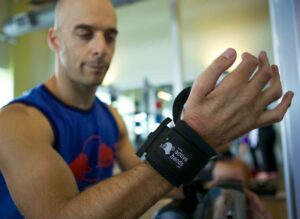 Active Hands now uses a small factory in Losthwithiel, Cornwall, to manufacture its goods and employs in Birmingham eight part-time workers. A number of casual labourers work from home to produce its products on industrial machines.
Christine Hamilton, interim regional director of the Department for International Trade West Midlands, said:
"Pete West in our international trade team has recognised Active Hands' potential and over the past two years has worked closely with the company to help get its brand known overseas. As a result, its innovative products are receiving a huge amount of interest around the world. Any company looking to achieve similar global success should go to www.exportingisgreat.gov.uk to apply for current export opportunities and book an appointment with one of our local ITAs."
Active Hands already exports globally, with about 50% of its turnover coming from sales to North America. Exporting is central to its strategic growth plans, and the company has set its sights on growing business in the South American market.
Simon Lyons, marketing and promotions at Active Hands, will travel to Rio to represent the company and he will be joined by Gareth Herridge, who is a wheelchair user and has very weak hand function.
Jayne Howarth
Freelance journalist, copywriter, PR