This magnetic phone charger makes plugging your phone in so much easier. No need for fiddly connection, trying to get that small connector into the socket on your phone every time!
This product does not qualify for VAT exemption. Therefore the total cost of this item for customers within the UK is £6.95 for a cable and one connector and £4 for each additional connector. VAT will be added at the checkout. Customers outside the UK will pay the price shown above.
Insert the connector into your phone once and leave it there. When you want to connect your phone, just position the cable near to the connector and it makes the connection magnetically. You will need to select a cable and a connector if this is your first purchase of this product.
The magnetic phone charger cable is 2m in length and available in black or purple. The connection head can attach at any angle and rotates 180 to make it more comfortable to hold the phone while it is charging.
There are 3 connectors available to suit most phones:
Lightning connector: this connector is used for Apple iPhones from iPhone 5 up to the latest release (iPhone 12)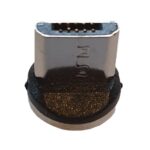 MicroUSB – many older phones use this connector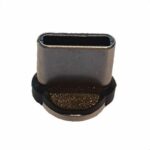 USBC – most new phones (apart from iPhones) use this connector