At the beginning of the year, Active Hands were excited to be contacted by BBC Business Online who had heard about our business and were interested in meeting us and finding out about the work we do, as a part of a larger theme they were researching on disabled people working in business.
After a bit of a tidy round (and just a bit of worrying about what to wear!), we were ready to welcome the BBC and at the end of January, we met Jeremy Howell who came to our new offices to film an interview.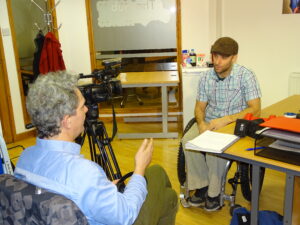 Jeremy was interested in finding out about our range of products and how they can help disabled people to lead active and independent lives, as well as the challenges and rewards of working in the business sector as a disabled person. It was great to be able to show him our new offices and to talk about a business that we are so passionate about. We loved demonstrating our products and describing the difference they can make to people's lives. It was especially exciting to be able to demonstrate the pre-production version of our small item gripping aid, which we have been working on for some time now and are looking forward to bringing to the market this spring.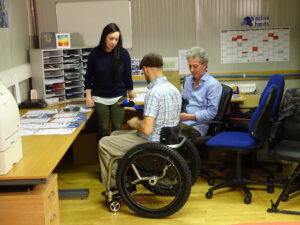 We are pleased that extracts from the interview have been published on the BBC news business page and may be aired as part of a BBC news 24 feature at a later date. To see our interview (and get a sneak preview of our small item gripping aid) find us on the BBC news page here.
Jo Smith