Here at Active Hands we know how valuable the experiences of others can be when you're faced with a life-changing disability, or trying to adapt to something new with an existing disability. Finding a community to share tips with or ask advice from can be invaluable, no matter what stage of life you are in. So, with this in mind, we decided to ask all of you the questions that our customers regularly ask us, in the hope that we can advise and motivate each other. In this article mini-series we'll be publishing the responses from across our social media sphere and from those that we contacted directly.
Time to introduce our first question…
Why is rehab/ exercise important after injury?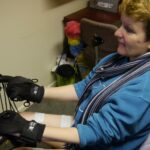 It is important to remember that every injury is different, so what works for one person may not work for another. Ultimately the best thing to do is to discuss your rehabilitation with your doctor and physiotherapist.
However, when we sent this question out to our community, the responses were overwhelmingly positive about the many benefits that the right exercise routine can have. From physical fitness and improved mobility, to greater independence and improved mental health…you guys are certainly keen advocates for getting active. Here are some of the best responses.
"Exercises and independence are clearly linked! After my accident I went to the re-adaptation centre so I started with some basic exercises for the arms. If you have strength, you will be performing in your every day life so your mental well-being will be better." [Oksana, author of 'Association Kondor' website and a big fan of Crossfit]
…
"[Exercise] lets you gain autonomy and independence and also stay fit." [Oscar, Facebook]"Because we want to get a blood supply going at the newly growing muscle, tendon and bone sites." [Cindy, Facebook]
…
"Pain management." [Moises, Facebook]
…
"Rehab and exercise are crucial after an injury to help the muscles heal and regain strength and to re-train muscular and nerve pathways to movements which are both familiar and new. Both elements ensure less atrophy (muscle and movement loss)" [Jess, Instagram]
Ultimately, the consensus was that exercise is very important after injury.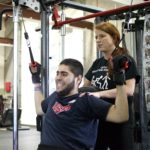 Thank you to everyone who contributed answers. If you are newly injured, or are looking to get back to an active lifestyle, check out our shop where you will find a wide range of products to enable you to 'get a grip' of gym and sporting equipment, as well as kitchen and gardening implements and many other items. For further motivation, become a part of our wonderful community on Facebook, Twitter or Instagram. If you have a burning question, why not message our page – we'll do our best to post them – and, hopefully, you can answer each other's questions!