We're still going strong with our Asking Your Questions series. If you've missed the first few why not check them out? We've asked: 'Why is rehab/ exercise important after injury?', 'When should rehab begin after stroke?' And 'What does sport mean to you?'
As we dive headfirst into the Christmas shopping season, with back-to-gym January just around the corner, independence can make a big difference.
Introducing question #4…
What does independence mean to you? And how have you achieved it?
You guys all prioritised the everyday things, and it's great to hear how you adapt tasks to work for you – we love innovation at Active Hands.
"For me independence means that you don't have to ask someone else to do everything like your family your friends etc. Independence is the power to do whatever you want when you want to. Unfortunately disability and independence are two difficult words to gather. If you work hard you will reach a good level of independence but the world still not adapted to us.

At the beginning it was difficult for me to put on my clothes. I was very slow so it was easier to ask some help for my family. After, simple things like going to the supermarket and taking your stuff from your car to the house are still complicated. And you always have a risk of falling so for me you can't be 100 % independent.

But it's important to work as much as you can because you will feel very free after!"

[Oksana, author of 'Association Kondor' website]
…
"Independence to me means being able to dress myself completely from head to toe unassisted, being able to transfer unassisted, living on my own, the ability to drive, being able to walk using a walker and leg braces, and just living life on my own terms.

I have achieved some levels of independence, I can undress myself completely unassisted, I learned in a day. I can transfer completely unassisted, still working to perfect the technique though. I can go to the bathroom by myself, wash myself and my hair, put on shirt and a bra; I can get into my power chair from the floor. I can get out of both wheelchairs independently. I can iron/wash my own clothes. Make my own cereal/sandwiches, make my own bed. I can get in/out of bed both from the chairs and the floor. I would love to be able to push my manual wheelchair consistently." [Kiana, Instagram]
…
"Finding ways to do things for myself. The usual way is not the only way." [Jack, Instagram]
…
"My mum taught me to be independent from a young age. No such words as "I can't, 'medically not allowed to' is totally different. I live on my own. There are only a few things that I found I need help with. I drive an adapted car. I go to the gym. I do the everyday things others do I just do some of them differently." [Callie, Instagram]
Everyone has their own #LifeHacks & our storage room is full of them! Check out our website for great innovations – they could gain you even more independence!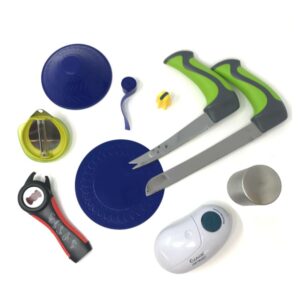 Thank you to everyone who contributed answers. If you have reduced hand function and are looking to get back to a more independent and active lifestyle, check out our website www.activehands.com where you will find a wide range of products to enable you to 'get a grip' of gym and sporting equipment, as well as kitchen and gardening gadgets and many other items! For further motivation, become a part of our wonderful community on Facebook, Twitter or Instagram. If you have a burning question, why not message our page – we'll do our best to post them – and, hopefully, you can answer each other's questions!
Jo Walters