We're still going strong with our Asking Your Questions series. You can check out the first four on our news page!
Time for Question #5…
Does exercise affect mental well-being?
We had an overwhelming number of responses to this one! You guys clearly value exercise a lot – and our products can certainly help with that!
"Personally I find that sport and exercise does help with mental well-being. It's common to hear about how sport/ exercise releases endorphins, however I think that's just a small part. When I first got ill and needed a wheelchair, after six months I started at a disabled Riding centre. At the time it wasn't just horse riding but also my physiotherapy. Horse riding is important to me partly as it's something I can do independently and without my wheelchair but it also gives me a boost of self-confidence and self-image as it was more how I used to see myself. When I achieve something I've been working on either in the gym, at a competition with Riding or wheelchair racing it gives me a mental boost and then I try harder. As well as these things being disabled can be fairly isolating, especially if you're not well enough to socialise often, the social side is important as it gives a boost , whether it's having the chance to socialise with other wheelchair users at training, and giving me friends that are in wheelchairs also, outside of the sport. Or showing non-disabled people exactly what I can do and overcoming some of their misconceptions towards wheelchair users." [Alex Turley]
…
"I can't ride at the moment following major surgery to my wrist three weeks ago. Only another two months and six days in plaster but I'm already bored senseless and as miserable as sin." [Kevin, Facebook]
…
"I'm a physiotherapist for people with learning disabilities and just done a presentation on this. Definitely, exercise is for all and has many benefits including improving mental health!" [Helen, Facebook]
…
"Wow yes!! I could write pages on this!! As a C5/6 tetra being part of activities and certainly sport! Wheelchair Rugby —- just for health even … but loved playing really made a big difference to my life. The wider population are recommended to be outdoors more!! Fully accessible countryside is so important!!" [David, Facebook]
…
"Definitely for me. Not only does it increase my strength and stamina, but it makes me feel that I'm doing something positive and proactive for myself." [Kate, Facebook]
…
"I'm a student OT & there are loads of studies promoting exercise for well-being" [Jamie, Facebook]
…
"Having a high-level spinal cord injury, my arms are only barely strong enough to push a manual chair, and even then, only indoors for short distances. However, I am lucky to have an FES bike which allows my legs to do meaningful work pushing the pedals. The sessions where I am riding are literally the only times that my body is not completely paralyzed. It gives me great satisfaction to ride for an hour, two hours, or even more. Over the past five years, I have now ridden almost 25,000 km. Priceless!" [Stewart, Instagram]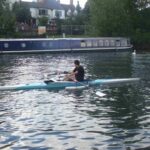 "Joining the gym and exercise classes saved me from my anxiety and stress last year. I was having panic attacks, not sleeping and generally in a bad way. What got me through that time until I could make bigger changes (such as changing job) and seek help, was exercise. Having that time to block everything out and focus solely on moving, got me through the days. I think that if you have the means to find accessible exercise for you, whatever that may be, then definitely try it as personally I've found it invaluable for my mental health."

[Teya, Instagram]
A big thank you to everyone who contributed answers! If you are looking to get back to an active lifestyle, check out our website www.activehands.com where you will find a wide range of products to enable you to 'get a grip' of gym and sporting equipment, as well as kitchen and gardening implements and many other items. For further motivation, become a part of our wonderful community on Facebook, Twitter or Instagram. If you have a burning question, why not message our page – we'll do our best to post them – and, hopefully, you can answer each other's questions!