Véronique Boucher is a 19-year-old Canadian, who has an ambition to make the Canadian Para-Rowing team for the 2016 Paralympics. I asked her some questions about her journey so far.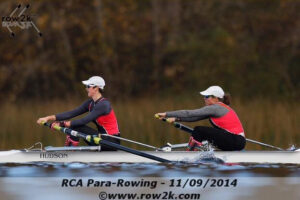 Véronique, tell us a bit about yourself…
My name is Véronique Boucher; I am currently 19 years old. From a young age I have enjoyed figure skating and I was a figure-skating coach to children and pre-teens before my accident. It has always been my passion and I fell in love with the sport instantly.
I was also very interested in photography and creating something artistic with images: adding effects, experimenting with different angles and subjects. I am studying photography in college at La Cité, Ottawa.
If you are happy to, please could you tell us about your injury and how it happened?
On July 2nd 2010, I was driving a UTV (an off-road vehicle) at my aunt and uncle's cottage: a Yamaha Rhino, to be precise. I lost control of the vehicle, over corrected the steering and rolled it. It fell to the side and dragged my hand along the gravel road. 12 hours later, after visiting multiple hospitals, I had 3 fingers amputated leaving me my thumb and pinky finger (which is now crooked).
How did things change after your accident?
After my accident, it never crossed my mind that I would have trouble returning to my hobbies with my loss of limbs. I went to rehab for approximately a year and a half and was shown how to tie my skates with only a thumb and a pinky finger on my left hand, how to manipulate my photography equipment, etc.
Figure skating became harder to accomplish, as PTSD (post traumatic stress disorder) made me fear falling and hurting my hand again. I started coaching skating more and more, but I wanted to give my injury a purpose by joining a para-sport.
How did you get introduced to rowing?
My best friend, Elsa Lalonde, introduced me to the sport of para-rowing in Sept 2013. She spoke to her coach at the Ottawa Rowing club and he contacted me to ask if I would like to try the sport. Without hesitating, I went to the ORC (Ottawa Rowing Club) to do some strength and aerobic testing, and of course hop into a boat for my first row. I fell in love with para-rowing from the very first stroke, and the rest is history!
I started training over 12 hours a week while attending the photography program in college. I started lifting weights, 'erging' (indoor rowing on an ergometer), running, and especially rowing. My disability didn't make things easy, getting a grip on the erg handle, the left oar and the weights was difficult but my coach gave me a bag of Active Hands gripping aids and it made physical activity possible again.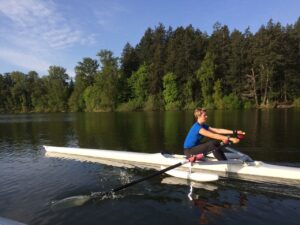 You mentioned that you struggled after the accident both physically and psychologically. I don't wish to bring up the difficulties that you have had, but could you tell me how things have improved now that you have rowing as your focus.
Before I started para-rowing, things weren't going very well for me: I was being bullied in high school, didn't have many friends, was fearing my beloved sport of figure skating and had trouble accepting what had happened to me (injury-wise). When I met my rowing coach, Paul Hawksworth, for the first time, he told me about how he was looking for dedicated athletes to build a Canadian Para-Rowing Team to eventually compete in the Paralympics in 2016. With this in mind, every training session had a purpose and also gave a purpose to my accident, showing me that even though life throws obstacles in my path, I can take them and turn them into opportunities. Ever since then, I have gained confidence in myself and have made new ambitions (becoming a photographer and moving to Victoria to train full time).
Some of our customers are less familiar with our Looped aids – please could you describe how you use them?
I use the Looped aid when I row in my single (one-person boat), or when I use the erg (rowing machine). When rowing in my single, I have to hold an oar in each hand. With only a thumb and a crooked pinky finger, I cannot grip the oar and pull with full force: I tape the loop part of the gripping aid on the oar so that it doesn't rotate, and attach the grip aid to my wrist. I can then pull as hard as I want.
I do the same thing on the erg, but there is no need to tape the loop.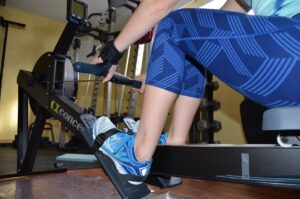 You mention your future hope to join the Canadian Para-Rowing Team, could you tell me some more about that please?
I cannot say much about what will happen with my Paralympic dream, but I am currently training to get a spot on the Team Canada Para-Rowing Team. If I succeed, we* would have to go to the World Rowing Championships in order to race within a certain time and qualify our boat to go to the 2016 Paralympics in Rio.
*I will row in the LTA 4+, meaning that we will be rowing a 'Coxed Four' in the Leg, Trunk and Arms category.
Thank you very much, Véronique, for sharing your story with Active Hands. We wish you all the best in your quest to join the Canadian Para-Rowing Team and look forward to hearing how you get on.