After being a finalist in 2010 The Active Hands Company and company director Rob Smith have won the prestigious Disabled Entrepreneur Award 2011! Sponsored by Disability Charity Leonard Cheshire and easyJet owner Sir Stelios Haji-Ioannou, the award ceremony took place in the Millennium Gloucester Hotel in London on Wednesday 14th Dec 2011.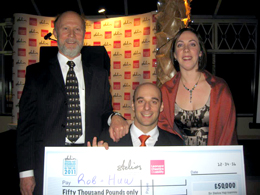 The award for this year had already been narrowed down to the final twelve, with judges further choosing three finalists. A video of these finalists (including Rob) can be seen on Youtube.
In the end judges were unable to pick a single winner and awarded the £50,000 cash prize and the title of Disabled Entrepreneur 2011 to both Rob / Active Hands and Huw Thomas from Promove. In an extraordinary act of generosity The Stelios Foundation decided not to split the prize money between the two winners but to award both the full amount of £50,000.
Active Hands are thrilled and honoured to be recognised with this award, which will enable us to further develop our business and products. Ultimately we will now be able to assist even more disabled people all over the world, increasing their independence and helping them to take part in sporting, practical and leisure activities which they would otherwise have found impossible.
A big thanks to Leonard Cheshire and the Stelios Philanthropic Foundation for sponsoring this award and to all involved for their hard work and support.