Disability is no barrier to determination as two entrepreneurs living with mobility issues have clearly shown. Last month wheelchair users Rob Smith, 36, who has a spinal injury, and Huw Thomas, 64, who has muscular dystrophy, were named joint winners of the Stelios Award for Disabled Entrepreneurs in the UK 2011, run by Sir Stelios Haji-Ioannou, the Stelios Philanthropic Foundation and the charity Leonard Cheshire Disability.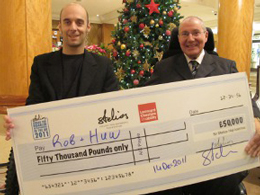 Mr Smith injured his spine 16 years ago after falling 40 feet down a cliff. While adapting to the radical lifestyle change he spotted a gap in the market for specialist equipment that would enable disabled people to be independent. In 2007, with the help of his mother, he set up The Active Hands Company, producing aids to help people with limited hand function to grip items, from gym equipment to the Nintendo Wii. He said:
"It started when I asked my mum to make an aid that I'd designed to help me grip weights to do a workout. Some of my friends from wheelchair rugby saw me using the aid and asked for some to be made for them, and a few months later the idea for the company was born."
The products have been welcomed by the sporting world, including orders for Team GB Paralympic rowers and for wheelchair rugby players.
The aids were featured on Channel 4's Inside Incredible Athletes, a documentary about Paralympic athletes, and on BBC1's Harry's Arctic Heroes, which followed injured service personnel as they set out to conquer the North Pole.
Mr Thomas's business, Promove UK, founded in 2007 with his business partner Dana Thomas, manufactures specialist slings to rescue, evacuate and transfer sick, injured, disabled or incapacitated people. His customers include the emergency services, schools, colleges, airports, holiday organisations, shipping, care homes, social services, charities and the disabled.
Promove supply slings for humanitarian operations and some of the products have been used most recently in Haiti and India.
The men will each receive £50,000 to further develop their businesses.
Reprinted from The Daily Express (UK)
More information on the Stelios Philanthropic Foundation.