We are proud to be able to share that our director, Rob Smith, was announced as one of the most influential people with a disability in the UK at a reception at the House of Lords on Tuesday 8th October. For the second year running, Rob has been awarded a place on the ShawTrust Power 100 list for his contribution to business as well as his sporting success in wheelchair racing.

The Shaw Trust Disability Power List 100 is an annual publication of the 100 most influential disabled people in the UK. Nearly 200 nominations were received for the 100 places. The Disability Power List 100 is compiled by an independent judging panel, chaired by Kate Nash OBE. Kate is the world's leading authority in 'Networkology' – the science behind the growth of workplace networks and resource groups. In 2007 she was awarded an OBE for services to disabled people. In 2013 she was appointed Ambassador to Disability Rights UK.
Rob Smith first conceived of the idea for his business in 1996, when a cliff fall resulted in tetraplegia. Frustrated by his reduced hand function, he designed a gripping aid to enable him to rehabilitate in the gym and to take part in other activities he missed. His design was so successful that soon friends were asking for their own pair, and so The Active Hands Company was born. Since then, the company has grown to become the international 'go-to' place for solutions to reduced hand function, helping people with a wide range of disabilities to take part in activities they love. From paralympians using our products to train and compete, to children using them to access play therapy, the Active Hands office receives wonderful feedback about the impact Rob's designs have had on their lives.
Speaking about his nomination, Rob says,
"I am really honoured to be included again in this years awards, alongside some other hugely talented disabled people. Seeing the difference our products can make to people's lives continues to motivate and inspire our work. From my own experience, I know what a difference being able to take part in activities you are passionate about, can make to your overall well-being."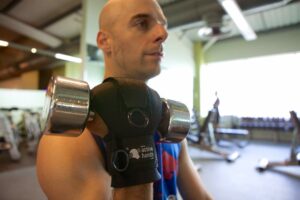 Last year, Channel 4's Alex Brooker topped the list of influential disabled people. Never one to miss an opportunity, Rob was able to present Alex with one of our Limb Difference gripping aids. Alex was quick to begin using it in the gym and one year on, he has added to his collection with our Looped aids and Hook aids, enabling him to expand his workout routine and access equipment he could never use before.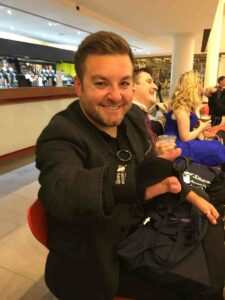 Alex Brooker was admitted into the Power 100 Hall of Fame, having achieved first place in the list last year. He gave an interview about his experiences over the last year and made this comment about his Limb Difference gripping aid and the positive impact it has made on his life:
"…at the Power List event last year I was chatting with Rob from Active Hands who do gripping aids which I now use in the gym. That one chance meeting has completely changed how I workout. The aids have enabled me to do so much more. My view of what I'm physically capable of with or without aids has changed so much."
We are delighted to see Rob's talent and determination recognised for the second year running, as well as the contribution Active Hands products make to improving lives across the world. The full Shaw Trust Disability Power List 100 can be found on www.disabilitypower100.com.