We are thrilled to be able to announce that our director, Rob Smith, has been awarded a place in the Shaw Trust Power 100 List: a list of the most influential people with a disability in the UK. Recognised for his contribution to business, as well as his sporting success, Rob enjoyed a night celebrating in London last night with the other awardees at the official unveiling of the list.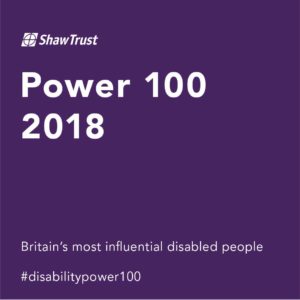 The Shaw Trust Disability Power 100 List is an annual publication of the 100 most influential disabled people in the UK. It is compiled by an independent judging panel, chaired by Kate Nash OBE, who received over 700 nominations to consider for the 100 places.
Kate writes, "What we have is an incredible list of 'powerful' individuals who are really creating waves, breaking down barriers and working hard to create a more inclusive world for everyone."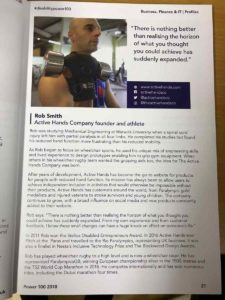 The Shaw Trust has been supporting disabled people since 1982 and this year's Power 100 List saw more nominations than ever before. While selecting the top 100 was a difficult task, the judges were
clear on their criteria. They were looking for individuals who are highly visible in their communities or whose sphere of influence was wide-reaching. Above all, they were looking for role models for the young and talented leaders of tomorrow.
Speaking to the Shaw Trust about his nomination, Rob says, "there is nothing better than realising the horizon of what you thought you could achieve has suddenly expanded. From my own experience and from customer feedback, I know these changes can have a huge knock-on effect on someone's life."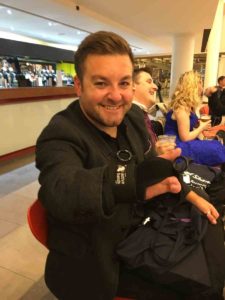 The award ceremony took place in the South Bank Centre and was attended by some very recognisable faces. Topping the list was The Last Leg's Alex Brooker. Not wanting to waste an opportunity, Rob took the chance to show him our Limb Difference gripping aid. Alex was immediately impressed and was delighted to take it away with him, looking forward to using it in the gym.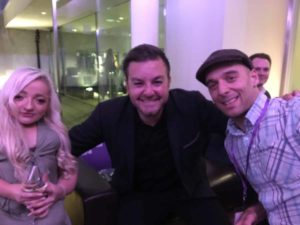 Other famous faces included actor and disability campaigner Sam Renke, as well as Warwick Davis, Adam Hills and Jonnie Peacock MBE.
We are proud to see Rob's determination and insightfulness recognised in this way, as well as the contribution Active Hands makes to many people's lives. For more information about the Shaw Trust and their Power 100 List, click here.
Johanna Smith