As a child, Daniel was a keen BMX rider and enjoyed the thrill of competing. His achievements came to an end after nerve damage left him unable to hold the handlebars. 30 years later, Daniel has rediscovered his passion, with the help of Active Hands, and is now fulfilling his childhood ambitions.
"Hello, my name is Daniel Steele. I'm 49 years old and I'm from Nashville. I'd like to share a story with you. In my youth, up until around 16 years old, I was a competitive, die hard, bicycle rider. In the discipline of BMX, I travelled the country attending BMX races and at one point, was ranked number 3 in the state of TN (more on that later). Around the age of 16 I sustained some nerve damage, severely limiting the use (grip) of my right hand. I was no longer able to compete in cycling."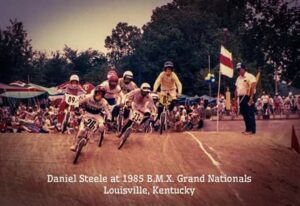 "Last year, after a chance encounter at the same BMX track that I raced on as a child, I ran into a pair of brothers that basically (off and on) never stopped racing. The conversation turned into "You should get back into the sport." I explained my situation with my hand and was asked if I had ever looked into devices for people with disabilities? I said that I had not, but that I had even tried things like cutting up belts to attach my hand to the bicycle. Well, after some research, I stumbled across Active Hands and ordered the General Purpose gripping aid."
"When my gripping aid arrived I took it to the track to try out. I cried the first time. I was able to do things that I have not been able to do, in over 30 years!"
"Just for kicks (and possibly to fulfil childhood dreams), I decided to race BMX again; after being away from the sport for over 30 years and at 48 years old! Well, in my first year back at BMX (2016), I ended up ranked #3 in the state of TN! This year (2017), I have won 3 international races, finished 3rd and 5th at others AND finished #2 in the state of TN (even after missing three months with a broken collarbone)!"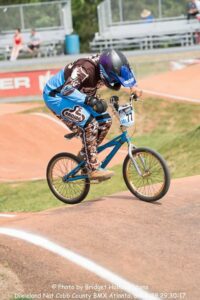 "I have been given a second chance at BMX, partially due to Active Hands. What a great product, not just for what it allows one to do, but for the possible dreams it allows to be fulfilled."
Daniel has rediscovered his love of BMX biking and, with a little support from Active Hands, is achieving beyond his expectations! His story is so encouraging; even activities that seem lost may well be achievable with the right support. If you have a hobby or passion that you have been missing, take a look at our range of products and see if 2018 can be the year you get back to doing what you love.
Johanna Smith