Brandon is a former gymnast from Cape Town, South Africa, who was involved in a training accident in 2012, when he was just 16 years old, which resulted in him suffering a C6/7 spinal cord injury.
He very quickly transitioned from gymnastics to para-athletics, and within a few short years he was competing in everything from shot put and discus to wheelchair racing. However, after a Paralympian saw his potential as a track athlete, Brandon decided to focus solely on wheelchair racing; specifically the 100m, 200m and 400m sprints. It is in these events that he hopes to compete at next year's Tokyo Paralympics.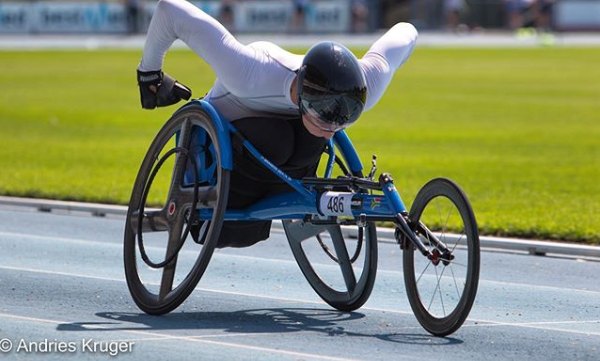 Brandon is remaining fairly upbeat despite the Covid chaos, choosing to see the Paralympic postponement as an opportunity for an extra year of preparation that will hopefully allow him to achieve even better results. That being said, he does admit that the limited access to facilities and general assistance has meant that he is only able to do just over half of the training that he would normally do. This mostly consists of practical sessions on indoor rollers, as he has been unable to access an athletics track for the last 5 months, and conditioning sessions at the Therapy & Beyond Centre which works in conjunction with the Walking With Brandon Foundation.
The main issue Brandon has faced is that of self-motivation. The mental aspect of lockdown has been tough on him, and he has found the will and desire to train from home is much weaker than when he is at the gym or on the track. On top of this, he has suffered some secondary complications due to being sedentary at home much more. However, despite all this, he is seeing improvements in all the areas he is working on in training and remains on track with what he and his coaches had planned. And with word of athletics tracks reopening soon, it shouldn't be long until he is able to recommence training in full.
One thing Brandon is able to do both at home and at the gym, is use his General Purpose Gripping Aids to help him hold onto and lift objects that would otherwise be too heavy for him, including lifting his own body weight! Weakened grip is a common part of C6/7 spinal injuries, so it is vital that high performance athletes like Brandon have the necessary equipment available to help them fulfil their full potential in the gym and during therapy. Brandon has found he is also able to do a much wider range of exercises when using these aids; and that when training at home during lockdown, he has been able to expand his repertoire of exercises without needing assistance to do so.
"Having Active Hands Grips in my life allowed my level of training and therapy to not be limited by the strength of my hands. I can isolate other muscle groups that can improve my level of independence and thus my quality of life. I feel a grip aid is essential for any quadriplegic or hemiplegic."
Gareth Herridge