This week began an exciting new chapter for Active Hands – we moved into our new office at Rumbush Farm in Solihull! The new office is set in the countryside, but handily located just off the M42, perfect for both the local dispatch team and for those of us who travel from Leamington/Warwick.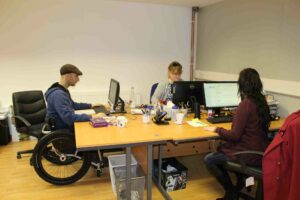 Up until now our business has been run from our homes but have now out-grown this solution, especially as we have expanded into stocking products from other companies, bringing together hand function solutions for a wide range of activities.
The new office gives us opportunity to meet up together and work side by side. This gives us a chance to discus the everyday running of the business without having to have specific meetings – and will hopefully reduce the amount of emails that we send between each other!
We also have access to meeting rooms where we can meet up with other companies, such as the Kandu group, and the all important kitchen area for making tea!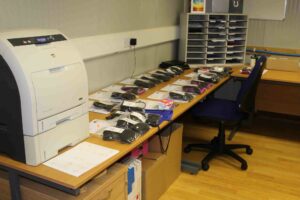 As well as a desk-based area we have a new dispatch area where customer orders can be put together before shipping. This new area has plenty of room to collate and package items, as well as having a huge shelving area – giving easy access to all of our products. Hopefully this will make life easier for the dispatch team.
There is also a warehouse area where we can keep our overflow stock, exhibition equipment and all those bits and bobs that are not needed on a daily basis.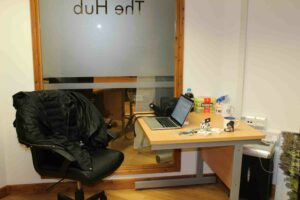 We have made a great start at settling into the new office and the staff from Admin Business Solutions, who are based in the same office space, have been very helpful in getting us up and running and made us feel very welcome. We just need to make a few small home improvements, like getting pictures up on the wall, and we will be all set for another productive year at Active Hands.
Our new address is:
The Active Hands Company
Unit 4, Rumbush Farm,
322A Rumbush Lane,
Earlswood,
Solihull,
B94 5LW
Clare Reynolds