Adam (thecpsavage) is a 30 year old from North West England with Cerebral Palsy. He can be found listening to rock music, binge watching TV shows, or playing playstation. But mostly, he enjoys lifting heavy things. Very heavy things.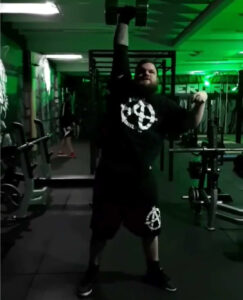 How does your cerebral palsy affect you?
Adam has Cerebral Palsy (left sided hemiplegia). He explains, "it affects my balance on stairs, I can't ride a bike, or run fast, that sort of thing." However, the main area that is affected is his left arm, which lacks muscle mass and grip strength as well as being shorter than his right arm, meaning holding things without handles or pressing weights overhead is not possible. "My right side compensates a lot for this, hence why it is really strong."
What sport can you access with Cerebral Palsy?
Keen to be active, Adam spent years training in boxing and mixed martial arts 5-6 days a week. But while browsing Facebook, he came across an advert for the World's Strongest Disabled Man 2016 being held in Manchester. "Until that point, I was oblivious to the sport. I had always loved Strongman but thought I'd never do anything like that as I thought there was not a disabled category – I was wrong. As soon as I saw the event in Manchester, I knew this was what I was meant to do!"
Adam attended Trojans Fitness Gym in Bristol for a strongman event in November 2016. While there he met Gina, an adaptive martial artist who was using Active Hands gripping aids to do seated deadlifts.
"I asked her via Facebook, a few weeks after the event, what the gripping aids were. She sent me the link and I ordered one then and there. They help me loads with things like deadlifts, rack pulls, cable rows and smith machine overhead press, as these require grip from both hands to be done effectively. They can all be done with one arm, but using two helps to activate more muscles and maintain balance throughout the body."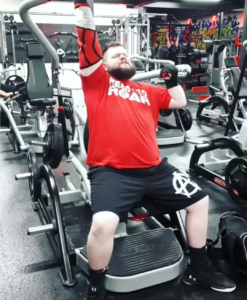 What is coming up for you in the future?
Adam's first Strongman competition is England's Strongest Disabled Man on Monday 2nd April at Brands Hatch Racecourse. "I've been training hard for this competition ever since I decided to back out of Britain's Strongest Man last year, as I felt I needed more time to prepare."
Adam's training takes him to the gym 4 to 5 times per week. "I don't really train Strongman events. I just lift a lot of weights and have fun doing it. I train certain body parts on certain days and adapt things that need adapting. Otherwise I'm like everyone else – I love to lift and to get bigger and stronger. The gym is my second home."
What are your goals for the future?
"This sport is my life now and I want to get to the top of the mountain one day and be the World's Strongest Disabled Man. But I have to start small and be realistic that it's going to take time, effort, determination and a fair few more years competing to achieve that goal. I want to be known as the strongest Cerebral Palsy athlete in the world. I'm working on it!"
What advice would you give to someone with a disability, looking to start out in sport?
For Adam, the Strongman events provide a community that is encouraging and motivating. Finding the community, and playing his part in it, has been transforming. "My advice would be, don't be afraid to start training and competing. You will be amazed by how supportive and encouraging people are."
The gripping aids that Adam uses, along with our full range of gym aids, are all available on our website activehands.com. Adam now trains at The Warehouse Gym, Southport, which can be found here, or you can follow him on instagram @thecpsavage. If you would like to share your gym photos, we'd love to see them! Send them to jo@activehands.com or post them to instagram and tag @activehandsco.
Jo Smith