2016: New Year, New Me
So here we are: 2016. With the holidays firmly in the rear view mirror, the last of the Christmas chocolates having been polished off long ago and the inevitable January slump now out of the way, it's time to concentrate on the year ahead. So let's take a look at what 2016 has in store for us and for disabled athletes in general, and how Active Hands can help you to push yourselves forward and enable you to reach your sporting goals.
Without doubt, the most coined phrase that got banded about in January was 'new year, new me'. This is generally brought on by a sudden bout of guilt and realisation at the cataclysmic imbalance of December's calories devoured versus exercise undertaken. So consumed are we by this guilt that we immediately seek out and enlist at the nearest gym, joining the herd of new year recruits in jostling for the next available treadmill, rowing machine or handbike. And by and large, it will remain like this for the rest of the month, possibly even rolling into February and, at a push, March. But gradually, new year's tedium sets in, resolutions are broken and numbers start to fall. So as we now find ourselves firmly planted in February, the question to be asked is: do you have the willpower and desire to stick with it?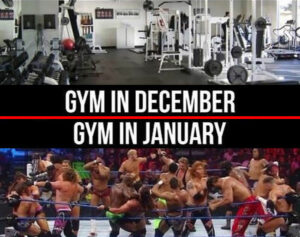 Finding The Right Balance
As a disabled person myself, paralysed from the chest down, with weakened arms and no finger movement to speak of, who is also keen on keeping fit and active, I know how important going to the gym can be. It's no longer as simple as going for a run outside or doing some sit-ups in the living room to keep yourself in shape. But I also know how important it is to find a gym that can cater for disabled clientele and not have you end up paying through the nose for the privilege. On the whole I've found that gyms with fully accessible machines are very much a rarity and on the odd times I have come across them, they have been well out of my price range. So I joined a reasonably priced gym that, although not fully accessible, had a handbike, a rowing machine, a good selection of pulley machines and a lift to the weights area upstairs, and by using various Active Hands aids in conjunction with these apparatus I am able to give myself a solid workout. And if I can do it then you can too!
The most obvious example I can give is using the General Purpose Gripping Aid to firmly hold onto weights and dumbbells as you go through the various curls and lifts that will help build up and strengthen your arms and shoulders. And if the weights feel uncomfortable or rough in your hands then try wrapping round some Heavy Use Gripping Wrap to get a comfier feel. Similarly, the General Purpose Gripping Aids can be used to hold onto the arm pedals of a handbike, and as almost all gym handbikes have removable seats, it should be as simple as pushing up to it, strapping your hands in and away you go! Rowing machines can also be used from the comfort of your wheelchair, as the seat and sliding bar it is attached to can be unclipped and removed from the base of the machine. It is then left completely clear for you to park your chair as close as you wish, pop on your Looped Exercise Aids, slip the loops over either end of the rowing bar and get underway. And if you find yourself struggling with core stability then try strapping yourself into your chair using a weight lifting belt. They can be easily purchased from most sports stores as well as online and are often made from neoprene, the same material used by Active Hands to ensure their grips are both comfortable and durable. As far as the pulley machines are concerned, pretty much all of these can be accessed by either attaching the General Purpose Gripping Aid to the bar or handle, or by unclipping it completely and using the D-Ring Aid to clip yourself directly to the carabiner, giving you access to a wide range of exercises and muscle workouts.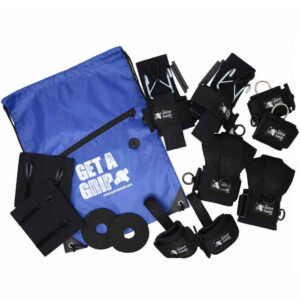 So there are just a few personal examples of how standard gym can be utilised by someone with a disability. But why make the effort? What is it about 2016 that should inspire people to get active? Well the answer is simple:
2016 is a Paralympic Year!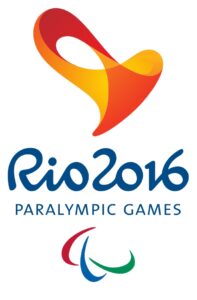 Yes, if ever you needed any more encouragement or inspiration to hit the gym, take up a new sport and push yourself that little bit further, then this is it. Quite simply the biggest event in disability sport. This September, approximately 4,350 paralympic athletes from 176 countries will compete at 22 paralympic sports over 11 days, with one goal: to win gold and prove they are the best in the world. And the closer we get to September, the more coverage and advertisements we will start to see in newspapers, on TV, online and on the radio, as excitement steadily builds. I remember noticing it and feeling it four years ago surrounding London 2012 and I also remember the legacy it left, with public perception of disabled people forever altered. No longer were people with disabilities viewed as 'invalids' or 'less fortunate'. Instead we were viewed as inspirational and capable of achieving greatness on a par with any able-bodied athlete and we cannot allow this legacy to be forgotten or go to waste. No matter what disability or obstacle you may believe stands in your way, there will always be a way to overcome it through innovation and invention. The number of disability aids on offer nowadays is staggering, with entire exhibition centres being filled with unique and novel ways of overcoming both sporting and domestic adversity in order to achieve whatever goals you may have set yourself. Active Hands is proud to be one of the companies that sits at the forefront of this innovative revolution, providing gripping aids to athletes at all levels: from grassroots beginners all the way up to Paralympians. And I would like to introduce you to just a few of the athletes that will be appearing at Rio later in the year, each of them currently using Active Hands to help achieve their dreams.
Mandip Sehmi
Not long after breaking his neck in a car crash in 2000, Mandip took up wheelchair rugby and has never looked back! Sixteen years later and with three IWRF European Championship gold medals under his belt, he is about to take part in his 3rd consecutive Paralympics and relies on Active Hands gripping aids to get the most out of his gym training.
Liz Johnson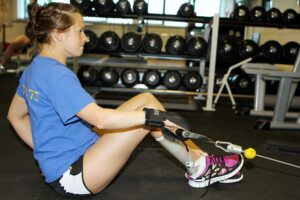 Liz, who was born with cerebral palsy, has been swimming since the age of three. She has competed and medalled in the last three Paralympics, winning gold at Beijing in 2008. On top of this, Liz has won several IPC World Championship gold medals, and will be a force to be reckoned with in Rio. When not in the pool, Liz incorporates Active Hands gripping aids into her strength and conditioning training.
Michelle Stilwell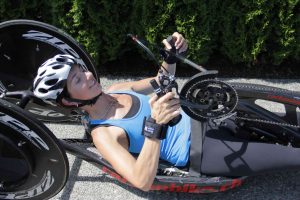 Michelle, a keen basketball player and track athlete from an early age, suffered a spinal injury when she was seventeen, falling down a flight of stairs and breaking her neck. However, she refused to allow this to hinder her love of sport and at the 2000 Sydney Paralympics she was part of the Canadian wheelchair basketball team that won gold. She followed this up by winning two gold medals in track at Beijing in 2008 and a further gold and silver at London 2012, and is the only female Paralympic athlete ever to have won gold in two separate summer sport events! Michelle currently sits on the Canadian parliament, holding the position of Minister of Social Development and Social Innovation of British Columbia but is also in training for track events at Rio. She uses Active Hands gripping aids for weights and muscle work in the gym, as well as the looped aids for holding onto the handlebars when out and about on her recumbent handbike. "Remove self-imposed limitations – anything is possible with a positive attitude." – Michelle Stilwell
Josie Pearson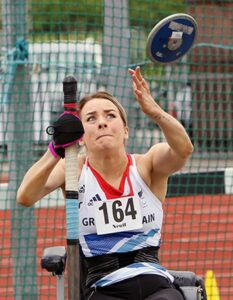 Josie was a keen show jumper when, in 2003, she was involved in a road traffic accident that left her paralysed from the chest down and with limited hand function. Unable to continue riding, Josie sought other sporting activities to keep her active and began playing wheelchair rugby which led to her becoming the first female to represent Great Britain at the sport, in the Beijing 2008 Paralympics. Following this, she turned her attention to wheelchair racing before moving onto discus and club throwing, and represented Great Britain in the 2012 Paralympics, winning gold in the discus and breaking the world record in the process! As you can see in the images, as well as using them in the gym, Josie uses her pink Active Hands gripping aids to hold her steady when throwing the discus, allowing her to concentrate all of her efforts into achieving the best possible distance. In the build up to Rio, Josie has once again switched events and is now hoping to compete in handcycling, making her one of the most versatile Paralympians Great Britain has ever produced!
Joanna Butterfield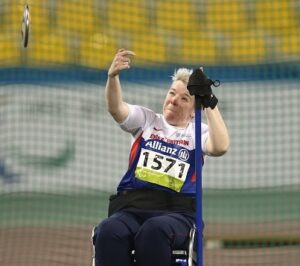 After being paralysed by a spinal tumour in 2011, Joanna started off playing wheelchair rugby before making the switch to discus and club throwing. She has excelled at this and in 2014 she won gold and set a new European record for the club throw at the IPC Athletics European Championships. She followed this up the next year with gold at the IPC Athletics World Championships and is heading to Rio looking to add Paralympic gold to her collection. Similarly to Josie, Joanna uses her Active Hands gripping aids to stabilize her whilst throwing the club and discus.
Tully Kearney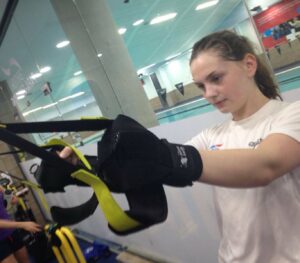 Tully is an exciting, young athlete that Active Hands have recently begun sponsoring on her journey to Rio. Born with cerebral palsy, generalised dystonia and joint hypermobility syndrome, Tully took up swimming at the age of 9 and, by the time she was 14, was competing in national youth competitions and won gold in seven events at the Disability Sports Events Championships. Fast forward a few years to the 2015 IPC Swimming World Championships, and Tully once again brought home an impressive medal haul, including four golds and three individual European records in the 400m freestyle, 100m butterfly and 200m individual medley, all of which she is currently ranked number one in the world in! She has won accolades such as Birmingham Amateur Sportsperson of the Year, ASA Para Performance Athlete of the Year and British Swimming Emerging Athlete of the Year, as well as being a finalist in the BBC Young Sports Personality of the Year 2015. We are thrilled to be sponsoring Tully, adding her to the ever growing list of Paralympic hopefuls that are using Active Hands products, not only to get the most out of their workouts and the most out of their bodies en route to Rio, but also to enable them to compete and excel once there. At only 18 years old and having been proclaimed by Channel 4 as a 'superstar in the making', Tully is an ideal role model for any youngsters looking to get into sport, demonstrating just how far you can come if you put your mind to something.
Where Can This Lead?
For the athletes above, Rio 2016 will be the culmination of four years hard work and training. Four years of pushing their bodies to the limit. Four years of strict regimen. Four years of complete dedication. These athletes are all Paralympians at the very peak of their abilities, but they all had to start somewhere. They all had to be inspired to make the initial effort, to join a gym, to commit to sport, to set themselves goals and focus on achieving them. I'm not saying that everyone reading this should immediately stop what they are doing, reassess their lives and become sports junkies, as this is not to everyone's taste. However, introducing a little sport or fitness into your life can only ever be a positive thing. It can improve quality of life in numerous ways, especially for those with a disability, helping you maintain a healthy weight whilst building up strength and muscle tone. This can have the knock on effect of increasing your abilities, allowing you to become as independent and self-reliant as possible. The social aspect it offers cannot be emphasised enough either. Through sports and activities, you will meet and befriend people with similar disabilities, who share your interests and with whom you can discuss and find solutions to any disability related problems you may have encountered.
So do it. Join a gym, search for your local disability sports club and get involved. It will be worth it I promise. No matter what your disability, there will be a sport out there for you and adaptations to help you along the way. And who knows, come 2020 it could be your name being cheered around the Paralympic Stadium…
Gareth Herridge