Rehacare is Europe's biggest Independent Living show and for the first time Active Hands had a stand there. We exhibited as part of the British Pavilion and it was encouraging to see many other amazing products that our country has to offer. It was a good opportunity for us to showcase our products to companies, therapists, resellers and individuals from around the world. Our exhibition stand was looking smarter than ever before!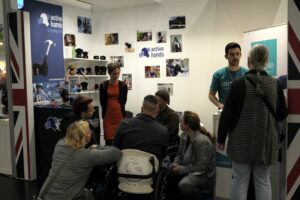 We shared a stand with our friend Simon from Version 22. Simon was demonstrating his new product: 'ein-finger ӧffner' (German for one finger opener). The Nimble is a simple device for opening packaging. It is useful for people with hand function weakness as it fits onto one finger and the small blade is great at opening Haribo sweets, as well as mircowave packing, envelopes and plastic packaging! We helped Simon to get rid of the excess sweets that customers didn't take (I never want to eat Haribo again!).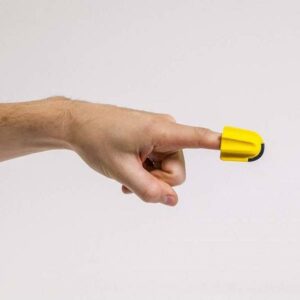 We also borrowed the Inimove from designed2enable to show how it can be used with our products and to catch people's eye as they walked past. It's quite an addictive challenge and lots of people wanted to have a turn. One of the British translators kept popping back to try to line the discs up!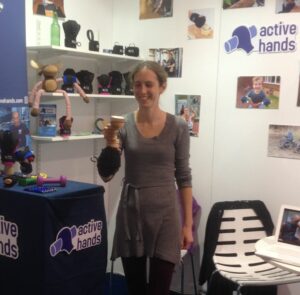 We were kept very busy at the show demonstrating our products and using our pictures to explain how our gripping aids can help people in the gym, around the home and garden, and out and about on bikes and in boats. We made lots of new contacts in countries close to home such as Ireland, and further away; USA, Canada, Egypt and Korea. We are confident that these contacts will turn into opportunities to get our products out to more people all around the world, so that they can benefit from a more independent lifestyle.