Towards the end of last year we were thrilled to announce the launch of the Small Item gripping aid; a versatile and simple solution for gripping small items such as toothbrushes, pens, art equipment, make up brushes and much more. Simply fasten whatever item you wish into the plastic clamp on the palm pad, pop on the glove and away you go!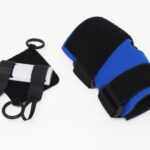 Last year, Brenda was one of the first people to try out and give us feedback on this new aid. She was very excited about it and had been using it to hold everything from pens to paintbrushes, make-up products to kitchen utensils. She contacted us again recently to let us know how she had been getting on with the aid over the past few months, revealing that the longer she used it for, the easier it became:
"The more practice I had with it, the easier it became to use. It took a few attempts before I got the hang of it with my fingers because I had to practice hooking my finger onto the strap of the palm piece so that I can switch each item on my own. But overall it was very easy for me."
Before using the Small Item gripping aid, Brenda had experimented with various other splints, cuffs and gloves. However she found that none of these gave her a firm enough grip on items or allowed her to change the angle at which she was holding them, severely limiting what she could do with them.
"The possibility of the things I can do has definitely expanded. I no longer have to worry about objects slipping out of my grasp in the middle of activities. Pretty much anything can be placed in the palm piece and will trustingly stay on."
Since acquiring the aid, Brenda excitedly states that she has been able to rediscover some of her favourite hobbies, in particular painting, which she had been missing.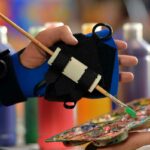 As far as offering advice to other people who are thinking about purchasing one of the aids, Brenda had this to say:
"If you are thinking about getting one, I would recommend you try using it with many different items because it's another door of freedom that opens."
Another customer, Bernadette, has found a new lease of life since getting her hands on the Small Item gripping aid, which has allowed her to rediscover her passion for painting and playing the drums!
"It feels really good to have a solid grip on things again!! I don't have to worry about dropping the brush anymore!! It's awesome. A must try for anybody who has trouble using their fine motor skills."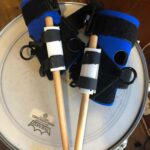 Even able-bodied drummers with full grip have to worry about the occasional drum stick flying out of their hand at an inopportune moment, but Bernadette stated that one of the best things about these gripping aids was the fact that she could play as long and as vigorously as she wanted without the sticks coming loose!
"It felt so good not to have to worry about dropping the drum sticks!! They hold very well. I'm banging as hard as I can and they don't budge!!! Love it."
"Before I received the small item gripping aid, I just stayed away from the drums and painting! It was just too hard, now I feel more in control and more comfortable doing my hobbies again! Thank you Active Hands!"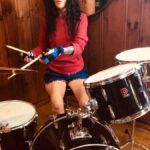 She also revealed that not only have these aids helped her in her hobbies, but they've also given her a brand new way of exercising!
"Playing the drums is a work out, my heart rate was up and my shoulders were feeling it."
When Bernadette's friend, who has the same condition as her, visited, she also tried the aids and immediately saw the difference they can make:
"She tried playing the drums for the first time without using my small item gripping it then we put them on her and it was such a difference! She was able to play without losing the sticks in her hands! Thank you Active Hands for helping my CMT community!!!"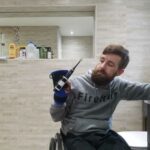 From a personal point of view, I recently received my Small Item gripping aid in the post and so far have been mostly impressed by just how versatile the aid is and how many tasks it has come in handy for. I got an extra set of pads to go with it so I wasn't having to constantly switch items in and out of the clamps, instead being able to just peel one Velcro pad off when I am finished with it and replace it with another.
Currently I have two pads in my bathroom, one attached to my toothbrush and one to my hairbrush, so now I just slip the glove on, switch between aids and fly through my morning routine. Previously I was having to carry these tasks out using two hands which was quite awkward and often resulted in me dropping the items.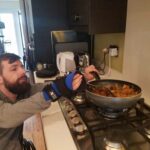 My other pad currently resides in my kitchen, with a cooking utensil firmly fixed in between the clamps. As someone with very limited hand function who uses a frying pan and a wok numerous times a week, I was always having to use both hands to hold the cooking utensil as I stirred or flipped whatever I was cooking, meaning that the pan itself often moved and tilted on the hob which was very frustrating and more than a little risky!
However now once I attach the utensil pad to the glove I am able to stir and flip one handed leaving my other hand free to support the handle and ensure the pan doesn't tilt drastically or start sliding away from me.
I'm sure eventually I'll acquire a few more sets of pads and have them dotted through my house, clamped onto every available item for every possible eventuality!
Check out the Small Item aid in action:
For more information on the Small Item gripping aid, or any of our other great range of aids, please visit our shop page.
Gareth Herridge