Active Hands gripping aids have been on the TV again! And this time the programme they featured in has won an award.
Rob Smith took part in a BBC learning program called "You Too Can be an Absolute Genius" which gives young inventors tips on creating a new product. The programme takes the children through the process of inventing an item: discovering a problem or adapting an existing idea, finding a need, developing and testing.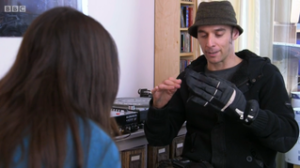 Rob talks about how he developed the Active Hands gripping aid; how he started with an idea, made a prototype, found its weaknesses and then continued to develop it into the product we produce today. On Rob's first prototype (shown in the picture above) the velcro was not strong enough to maintain a grip so he had to re-think his idea and improve it. After a number of iterations he came up with the product that Active Hands sells today.
After Rob has talked about his design process he shows how he can firmly grip a saw and cut wood. He also demonstrates how he can beat the presenter, Fran, in a game of tennis on the Nintendo wii!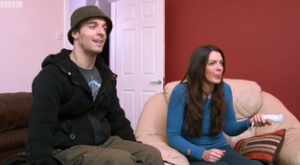 The producers contacted us to tell us that the show has won an award and been nominated for a second. They wrote:
"Whether you were in the show 'You Too Can be an Absolute Genius', or helped make it, you should all be very proud of yourselves as it has just won an RTS award for Best Learning / Educational programme, as well as being nominated for a BAFTA. James Millar and our current production office went to collect the RTS award on Saturday. So we'd just like to say, as we did on the night, that without you guys there wouldn't be a show to win an award, so THANK YOU for your hard work, time, effort, and smiley faces!"
Rob's invention has not just helped him but many other people too, as you can see from the reviews on our shop pages and the comments in our products section.