Last week marked the launch of the innovative Win-Win Stelios Scholars and Entrepreneurs Initiative at the British Library's Business and IP Centre, bringing together gifted scholars from LSE and Cass and the three finalists for last year's Stelios Award for Disabled Entrepreneurs in the UK.
Under the supervision of a team of seasoned entrepreneurs and academics, the students have volunteered to devote 10 days over the next 3 months to craft a strategic review and come up with actionable suggestions for ways that the entrepreneurs can grow their businesses.
A programme piloted by the Stelios Philanthropic Foundation last year, the Win-Win Initiative seeks to promote cross-fertilization within it's community of Stelios Scholars – under-graduate students at LSE and master's candidates at Cass – and entrepreneurs who have been a part of the unique Award offered by Sir Stelios Haji-Ioannou through his foundation and in partnership with Leonard Cheshire Disability.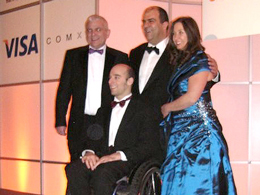 Rob Smith, a Leamington Spa resident and the founder of Active Hands – a production and distribution company marketing an invention which allows disabled people with limited hand function to grip a wide variety of items, says this:
"This is a wonderful way for me to get a different perspective on my business: as an entrepreneur, I don't have the time to step back and analyse the business and determine the best way to move forward strategically. I have so many great ideas and want to implement them all. The Scholars will be helping me to set priorities and perhaps find other opportunities that I might not have recognized yet."
Rob's product allows disabled people to live more independently and is fast becoming popular because it enables them to get a firm hold on almost anything, from gym equipment and snooker cues to gardening implements and Nintendo Wii control sticks. After discovering that there was a huge gap in the market for gripping aids, Rob designed the unique product with the help of his mother, and they started up their company, Active Hands Limited, in 2007. Rob says:
"In July 1996 I fell 40 feet down a cliff whilst on holiday with friends. I sustained a spinal cord injury which meant that I had to start using a wheelchair and my hand function was severely limited. "The Active Hands Company started out when I asked my mum to make a gripping aid I had designed to help me grip weights to do a workout. After a few prototypes and developments with my mum working to my designs on her sewing machine, we had a version which worked well. A few of my friends from wheelchair rugby saw me using the aid and asked for some to be made for them. After a few months we decided to start our own company."
Sadly, Rob's mother contracted cancer soon after the company was founded and died in 2008. Rob now runs the company with his father and sister, and they currently employ six members of staff to manufacture the products.
Rob's Stelios Scholar team includes Kliment Toshev – originally from Bulgaria and currently studying Mathematical Trading & Finance at Cass Business School and Elodie Marnat – from France and an MBA candidate at Cass, both gifted students and current recipients of a Stelios Scholarship at their respective schools.
"For us, it is about the real-world experience and being able to participate in the evolution of Active Hands and Rob's personal vision."
Linda Hickman, Visiting Senior Fellow at LSE who supervises the Initiative (along with Julie Logan, Professor of Entrepreneurship at Cass – and mentoring entrepreneurs – James Footit of Higgedy Pies and Andrew Try of Comxo) elaborates:
"This is a wonderful example of a 'win-win' situation in which all participants gain in terms of insight, experience and widening their network. It is a nice way to extend the positive effects of the Stelios Award for Disabled Entrepreneurs in the UK."
Stelios Foundation Press Release – March 2011