In the weeks and months that follow a catastrophic injury, everything is different. Finding new rhythms and routines to life can be difficult with a body that works differently and a brain that is processing trauma. But as the dust settles and a 'new normal' is emerging, what role can exercise play in improving both physical and mental well-being? And how can we support newly injured clients to find suitable, challenging and rewarding exercise routines that they can stick to long-term? We spoke to men with recent SCI and their partners to learn more about the challenges of exercising with SCI, the role of exercise in their families and the things that have enabled them to ensure sport plays a key role in their everyday life.
What Exercise Can I Do With SCI?
For Tauren, a C7 quadriplegic from British Columbia, keeping fit is a priority. Three years out from his injury, he explains, " I used to run a lot. Now I've had to adapt how I keep fit. I exercise a fair bit as I have a bit of a problem shoulder."
His routine includes weight lifting, mat work using his body weight and resistance bands.
"I feel a lot better physically and mentally when I exercise. Also, my shoulder thanks me!"
Erin and Jason met in 2018 through comedy. Early on in their relationship, Jason sustained a spinal cord injury. Erin explains, "we were both active before and so we try to stay active even though it is different now." Jason enjoys weight lifting and boxing as well as adaptive biking when he gets the chance.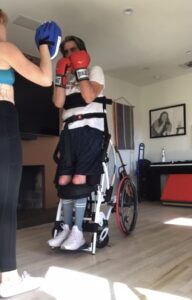 What Are The Benefits Of Exercising With SCI?
For both Tauren and Jason, the physical benefits of exercising with SCI are crucial. Staying on top of existing problems, like Tauren's shoulder, or preventing new ones from cropping up, means they can be as independent as possible in their daily life. But the mental benefits are huge too.
Erin notes, "Exercise makes Jason feel connected to his body and since he can't [physically] connect to half of his body, that feeling is important." That sense of control, strength and independence can be life-changing, following an injury that can initially remove all of those feelings. Ensuring exercise plays a regular part in his life is vital to Tauren too.
"I feel a lot better physically and mentally when I stick to a steady exercise routine. It makes everything a little easier and helps me maintain a degree of independence in my life."
Jessica and Frank met 11 years ago. In July 2021, Frank was involved in a race car accident and sustained a C5 incomplete spinal cord injury. Their first baby, Leo, was born in November.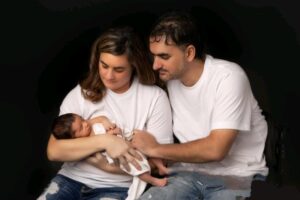 Just a few months out from his injury, both Frank and Jessica are clear about the importance of regular exercise in Frank's routine. "Currently, Frank goes to the gym 3-4 times a week. Exercise relaxes Frank both physically and mentally. He is calmer, less stressed and it gives him something to focus on. Sport is a great way to stay positive."
How Can I Achieve A Challenging Workout?
At Active Hands, we are keen for everyone to have access to a workout routine that motivates, energises and challenges them. We have seen time and time again the transformative benefits of regular sport and exercise in all areas of life. But we are also keenly aware of the difficulties of accessing that exercise when hand function is reduced. Our range of gripping aids are designed to be put on independently. They enable the user to take part in a varied, interesting workout, whether they are at home, in the gym or taking part in team sports. Tauren tells us,
It would be difficult for me to work out effectively without Active Hands gripping aids as I have very limited hand function. Active Hands has made [keeping fit] a breeze. They offer a great deal of flexibility. The General Purpose gripping aids allow me to independently set myself up. I've gone up to 40lbs resistance with no issue.
After initial rehab in hospital, Jason, Tauren and Frank returned to their homes. They have all found ways to build exercise into their daily lives and experienced the profound benefits of doing so. With the right tools alongside them, they are able to stay motivated and challenged. And they are keen to encourage others to find ways to experience the same. Frank's wife, Jessica explains, "Sport is a motivator in all you do from getting to meet new people in a similar situation to seeing improvement in one's self." Tauren encourages, "Just keep moving. It doesn't have to be arduous. It doesn't have to be instagrammable. Just move. It'll make a difference, trust me."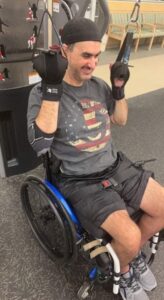 If you have a client with reduced hand function who is struggling to fit exercise into their daily life, or to find exercises they can perform independently that challenge them, take a look at a our range of gym aids. Together, we can help them to overcome their reduced grip to start feeling the physical and mental rewards of regular sport.
Jo Smith