In December 2002 José Maldonado, a dedicated husband and father of two, suffered a devastating intra-cerebral hemorrhage; a type of stroke caused by the sudden rupture of an artery within the brain. Unfortunately, like many stroke survivors, he experienced loss of function in both his lower and upper extremities, meaning he needed to use a wheelchair, struggled with aphasia, facial paralysis, and was overwhelmed by outside stimulation such as ambient noise. However, he was determined not to give up on his life, and after seeing what a profound effect his stroke had on his entire family he tried to find ways in which he could improve his quality of life and regain his independence.
Still with little hope, he committed himself to therapy 5 to 6 times a week with sessions lasting anywhere between 4 to 6 hours a day. He began to notice that even his effort to get better had an uplifting effect, not only on himself, but on his family as well. After much self-sacrifice and family encouragement, he began walking again and did not have to rely on his wheelchair or even a walking cane. He was able to resume activities that he once considered impossible such as driving, using a computer and eventually going back to work.
His only problem was, no matter how much he tried, he couldn't exercise the way he wanted – with both arms. He was unable to open and close his affected hand. So for over 12 years he was limited in terms of the exercises he could do. But that all changed when he discovered Active Hands. Jose explains that his Active Hands gripping aid has, "changed, totally, his life for the better." With Active Hands he finally can go to a regular gym like anyone else. And he has been able to go to a regular gym every day for two years now. He tells us, he is "in love with his Active Hands!"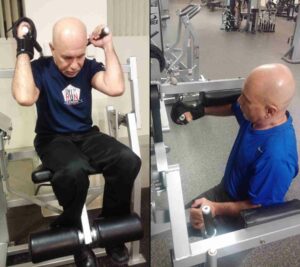 José has dedicated himself to counselling individuals and family members, and even helped to establish a Stroke Support Group in Maryland USA. He also works with other stroke support groups throughout Maryland and volunteers for several stroke-related clinical studies. As a dedicated stroke survivor advocate he has worked with several organisations to prevent heart attacks and strokes. Their goal is to bring together communities, health systems, non-profit organisations, federal agencies, and private-sector partners from across the country to fight heart disease and stroke. They have also asked José to participate in their drive by sharing his personal story and knowing the importance of family health history as well as recognising stroke warning signs and symptoms.
He realises he was fortunate with regard to his recovery and tries not a deliver a message of false hope for stroke survivors, but one of encouragement and inspiration. He knows through his own experiences, that stroke victims can and do get better as long as they have encouragement from family and friends and are willing to commit themselves. He says they too will improve and find life after stroke.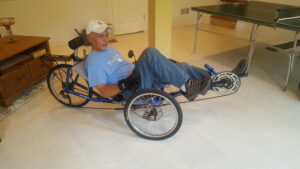 His message is simple; "There is life after stroke and it can be a rich and fulfilling life. Don't give up, it's not the end – it's only the beginning."
Johanna Smith